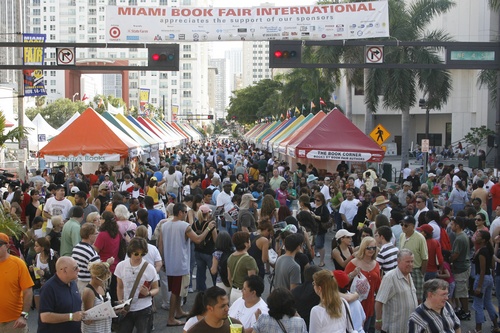 Celebrating its 26th anniversary is the Miami Book Fair International- Nov. 8-15, 2009- the oldest and largest gathering of authors reading from their books, answering questions from the audience, and signing autographs.
www.miamibookfair.com
Coming from all over the world, will be Elizabeth Alexander, Sherman Alexie, Margaret Atwood, Madison Smartt Bell, Andy Borowitz, Meg Cabot, Betsy Carter, Dan Choan, Susie Essman, Bruce Feiler, Mary Gordon, Al Gore, Dr. Sanjay Gupta, John Hemingway, Allegra Huston, Barbara Kingsolver, Mary Karr, Dennis Lehane, Philip Lopate, Jill McCorkle, Ana Menendez, Ralph Nader, Elizabeth Nunez, Orhan Pamuk, Francine Prose, Jeannette Walls.
These are just a few of the over 300 authors who will gather at the Miami Dade College's Wolfson Campus in downtown Miami to read from their works in English, Spanish, French, Portuguese, and Haitian Kreyol.
The official poster and program of authors and activities for the 26th edition of the nation's finest and largest literary gathering, Miami Book Fair International (Fair), presented by the Florida Center for the Literary Arts at Miami Dade College (MDC), was unveiled at a reception Sept. 16, 2009, at ECCO Pizzateca and Lounge in downtown Miami. The Fair will take place Nov. 8-15, at the college's Wolfson Campus, 300 NE 2nd Ave., in downtown Miami. The official poster was created by acclaimed cartoonist and author of the Wimpy Kid series, Jeff Kinney.
HIGHLIGHTS
The Fair will again treat book lovers to more than a week of cultural and educational activities, including author readings, book signings, the beloved Evenings With series, the IberoAmerican Authors program, the popular Street Fair Nov. 13 – 15 on the actual closed streets of downtown Miami surrounding the campus, Children's Alley, and much more.
"We're again pleased and honored to host such an important event, especially during these difficult times, when people truly want the type of sustenance that books can provide—whether they are stories that affirm our resilience or help us escape our troubles for a while," said Dr. Eduardo J. Padrón, president of Miami Dade College and Miami Book Fair International co-founder. "The Book Fair is a cornerstone of what we do at Miami Dade College. Literacy helps make a community strong and stable."
Mitchell Kaplan, co-founder and chair of Miami Book Fair International, stated, "We are very grateful to Miami Dade College and its employees, as well as to all the volunteers, and also to our sponsors and patrons. Without them, there would be no way to sustain such large and important effort. Thanks to all!"
SOME CHANGES
Several past components of the Fair have been scaled back or postponed due to the challenging economic times and state budget cuts the college is facing. The Fair will be more contained. For example, this year, there will be no inauguration ceremony and festivities; no International Pavilions Village; and no Street Fair Parade. In addition, the Fair is cutting back the number of author presentations, but still planning to present some 300 authors and writers representing the best in contemporary literature.
In addition, the members of the Book Fair board of directors and Fair administrators are raising the admission to the weekend Street Fair, from $5 to $8 per person. However, persons 62 and over will continue paying $5. The Fair is also preserving the free access to fairgoers 18 and under, volunteers and others. Access to the Street Fair on the Friday will remain free of charge. Plans also call for the Evenings With program, which has been free for the last 25 years, to have a $10 admission fee, but free parking will be available in Building 7.
"We have a spectacular line-up again this year. Authors from across the globe representing every genre and a truly wide array of subjects will be at the Fair. What we do here every year is truly special. There are very few places in the world where people have access to this kind of programming. You won't want to miss it," added Alina Interián, executive director of the Florida Center for the Literary Arts at Miami Dade College.
TOP CONFIRMED AUTHORS
Many of the world's top authors are already confirmed for this year's Fair. These include Sherman Alexie, Margaret Atwood, Roy Blount Jr., Robert Olen Butler, Meg Cabot, Alan Cheuse, Susie Essman, Mary Karr, Mike Farrell, Nobel Laureate and former Vice President Al Gore, Dr. Sanjay Gupta, Barbara Kingsolver, Jonathan Lethem, Jacquelyn Mitchard, Ralph Nader, Richard Powers, Nobel Laureate Orhan Pamuk, Francine Prose, Ruth Reichl, Senator Bob Graham, Wally Lamb, musician and performer Iggy Pop, Melvin Van Peebles, Jeannette Walls and many others.
Confirmed Spanish-language authors include Roberto Ampuero, José María Aznar, Carmen Posadas, Alvaro Vargas-Llosa, Boris Izaguirre, Angela Becerra, Juanita Castro, Edmundo Paz-Soldán, Jorge Ramos, Fabiola Santiago, Jaime Bayly and others.
Please visit www.miamibookfair.com for the complete list of authors.
POSTER
The 2009 Miami Book Fair International poster was created by renowned cartoonist, author and Maryland native, Jeff Kinney. He's the creator of the Diary of a Wimpy Kid series. Released in 2007, Diary of a Wimpy Kid quickly became a New York Times bestseller, eventually reaching #1 and staying on the Times' children's best-seller list for 89 weeks. According to a Times story, the publisher, Abrams, estimates there are 10 million copies in print of the first two books and a third title, a do-it-yourself version that lets children write their own story. A Wimpy Kid movie is also being cast. Diary of a Wimpy Kid: The Last Straw will be released later this year. Kinney currently resides in Massachusetts and is the design director of a Boston Internet publishing company. He attended the University of Maryland. The poster was unveiled Sept. 16.
"It was a huge honor to be asked to work on the Miami Book Fair International poster. I attended last year and was amazed at how well organized and well attended the Book Fair was. I wanted to capture the spirit of the Book Fair in my poster – people from all walks of life coming together to celebrate authors and books," said Kinney.
EVENINGS WITH SERIES
As mentioned above, there will be an admission fee to the Evenings With sessions of $10. The session are as follows:
• Elizabeth Alexander, is the author of the inaugural poem Praise Song for the Day — Sunday, Nov. 8
• Margaret Atwood is the author of The Handmaid's Tale and finalist for the Booker Prize — Sunday, Nov. 8
• Ruth Reichl is the Editor-In-Chief of Gourmet Magazine and former New York Times food critic — Monday, Nov. 9
• Barbara Kingsolver is the bestselling author of The Poisonwood Bible, and short listed for the Pulitzer and PEN/Faulkner Awards — Monday, Nov. 9
• Jeannette Walls is the New York Times bestselling author of Glass Castle — Tuesday, Nov. 10
• Richard Powers is a critically acclaimed novelist and winner of a National Book Award and Pulitzer Prize Finalist – Wednesday, Nov. 11
* Isabella Rossellini model and actress reads from Green Porno: A Book and Short Films Thursday, Nov. 12
• Orhan Pamuk (Turkey) is the winner of the Nobel Prize for Literature – Friday, Nov. 13
In addition, there are plans to hold a free reception every night prior to the evening presentations called Twilight Tastings thanks to the support of sponsors. Also, people paying the admission to the evening sessions are eligible to receive a $5 discount on any of the authors' books at anytime during the Fair or toward the purchase of any book prior to Dec. 31 at any Books & Books location. This does not apply to complimentary tickets.
For regular updates, times, and more information, please visit www.miamibookfair.com, call 305-237-3528 or email wbookfair@mdc.edu.
MIAMI DADE COLLEGE AND THE ARTS
Miami Dade College has a long and rich history of involvement in the cultural arts, providing South Florida with a vast array of artistic and literary offerings including The Miami Book Fair International, the Florida Center for the Literary Arts, The Miami International Film Festival, the Cultura del Lobo performing arts series, The Cuban Cinema Series, the Prometeo Theatre, the Miami Leadership Roundtable speakers' series, a renowned art gallery system, several campus theaters, and the nationally recognized School of Entertainment and Design Technology. It is also home of the National Historic Landmark Miami Freedom Tower. With an enrollment of more than 170,000 students, MDC is the largest institution of higher education in the country and is a national model for many of its programs. The college's eight campuses and outreach centers offer more than 300 distinct degree programs including baccalaureate, associate in arts and science degrees and numerous certificates. In 2006, MDC admitted its 1.5 millionth student.