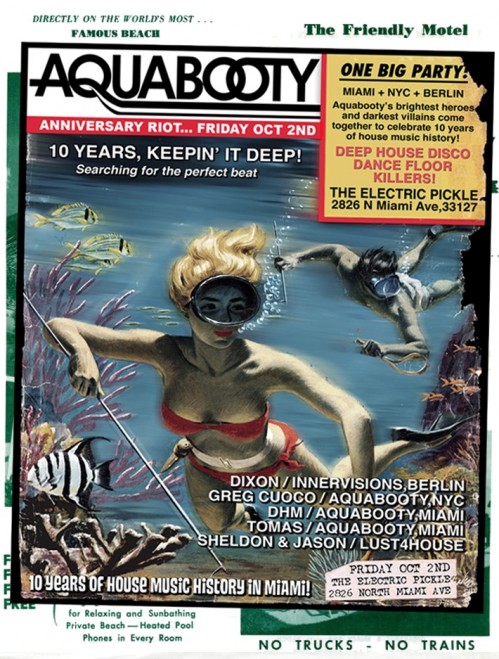 Aquabooty…celebrating 10 years of house music history in Miami.

Yes friends… here we are again, one year older and not a bit wiser.
This Friday Aquabooty carries on the tradition, 10 long years providing the multitude with
glorious, dark, dirty, deviant and sweaty, diskoid dancing.
October 2nd 2009 our finest heroes and darkest villains come together at the Electric Pickle to create 2 rooms and eight hours of rioting.
Uniting all the traveling disco clans, b-boys crews, hipsters, house-heads, homos and assorted underground aficionados…
coming together as our uncle George says "one nation under a groove".
This eve our special guest djs and trusted residents dig deeper than usual into their collections to celebrate 10 years of musical uproar.
Expect a journey into twisted, deep, psychedelic, spiritual, sunshine grooving, dirty bass-line burnin', soul sonic musica.
Friday October 2nd @ the Electric Pickle
2826 N Miami ave. Wynwood Arts District, Miami Fl 33127
Doors 10pm – 5am

RSVP here – free admission before 11pm / reduced before 1am