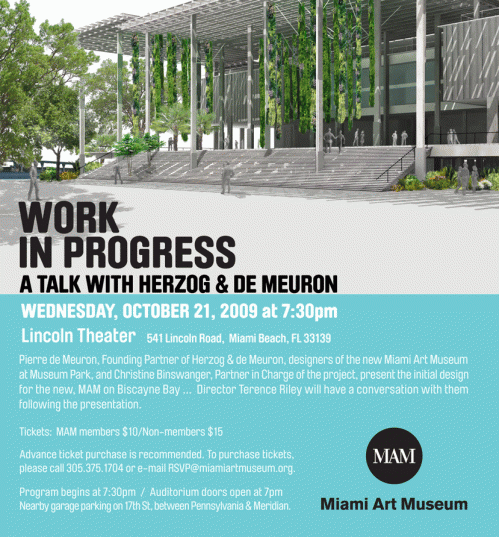 Work in Progress: A Talk with Herzog & De Meuron
Wednesday, October 21, 2009 at 7:30 p.m.
Lincoln Theater | 541Â  Lincoln Road, Miami Beach, FL 33139
Pierre de Meuron, founding partner of Herzog & de Meuron, designers of the new Miami Art Museum at Museum Park, and Christine Binswanger, partner in charge of the project, present the initial design for the new, MAM on Biscayne Bay…Director Terence Riley will have a conversation with them following the presentation.
Tickets: MAM members $10/Non-members $15
Advance ticket purchase is recommended. To purchase tickets please call 305.375.1704 or email RSVP@maimiartmuseum.org
Program begins at 7:30 p.m./Auditorium doors open at 7 p.m.
Nearby garage parking on 17th Street between Pennsylvania & Meridian