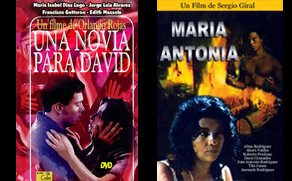 CINE FORUM: CINE HABANA: UNA NOVIA PARA DAVID.
DATE: 09-22-2009
TIME: 7pm
Cine Habana: Una novia para David. (1985) 103′
Director:Orlando Rojas
Program to promote local creativity
Tuesday September 22, 7pm
The projection will be followed by a Q & A with the director Orlando Rojas and the actors María Isabel Díaz y Jorge Luis Álvarez.
In Spanish with English subtitles
At CCEMiami. Free Admission
Una novia para David
Actors: Jorge Luis Álvarez y Maria Isabel Diaz
Music: Pablo Milanés.
David is trapped. He is in love of Olga who is admired by every boy and has to resist the insistence of Ofelia who wants him to be her boyfriend. Una novia para David is a refreshing movie about love in the youth. The screening will be followed by a chat with director Orlando Rojas and the two leading actors.
David arrives into Habana to continue his studies. In his classroom he meets Ofelia, who is the student representative and has no boyfriend. Ofelia gets suddenly interested in the newcomer. However David is very much interested in Olga the most beautiful girl in the class. David's conquest will have a lot of rivals.This was the first film by the Cuban director Orlando Rojas who takes David's love labors to reflect on the right to choose in love matters.