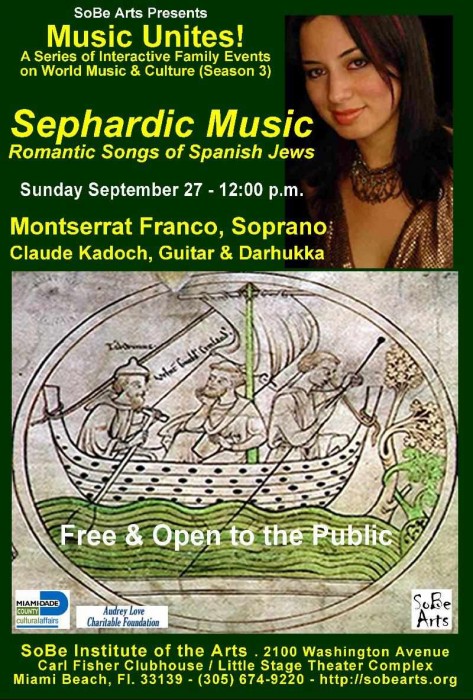 Music Unites! A series of interactive family events on world music & culture (Season 3)
SEPHARDIC MUSIC – Romantic Songs of Spanish Jews
Montserrat Franco, Soprano
Claude Kadoch, Guitar & Darhukka
Free & Open to the Public
For centuries, the legacy and traditions of Sepharad (Spain in Hebrew) was transmitted through generations of Sephardic Jews on their Diaspora after they were ousted of Spain in 1492 and settled in several parts of Europe, North Africa and the Middle East. They left Spain but never their language "Djudeo-Espanyol" also called "Ladino" (a language which defer from the Spanish or Castillan spoken by Christians at that time and which includes Hebrew elements and vocabulary from the local languages) neither the culture which includes an amazing oral tradition : tales, poems and songs or "Romanceros" just as the "Trovadours" will perform in the Middle Age.
The vast collection of Romances preserved and transmitted for generations will come back to life on September 27th when Singer "Montserrat Franco" will present in an unique venue accompanied by the Israeli Moroccan Artist Claude Kadoch. These songs express not only these historical changes but also the entire life-cycle of that people, with their moments of joy, sorrow and love, its festivities and celebrations. This rich and varied culture is the basis of the Ladino repertoire, a musical treasure that never ceased to grow in the new places where the Sephardic Jews settled.
About the Artist: Montserrat Franco, a graduated Vocal Professor, ethnomusicologist and grantee of several scholarships by the European Parliament in Madrid, Spain and the State of Israel researched about the Sephardic Romances and Traditions from 1999 to 2002.
She was commissioned by the State of Israel to perform around the world as a truly sephardic artist during International Literature Fairs and Symposiums of the Spanish Language always sponsored by the AECI (Spanish Agency of International Cooperation)
SoBe Institute of the Arts
2100 Washington Avenue
Carl Fisher Clubhouse/Little Stage Theater Complex
Miami Beach, Florida 33139
305-674-9220 info@sobearts.org
http://www.sobearts.org/