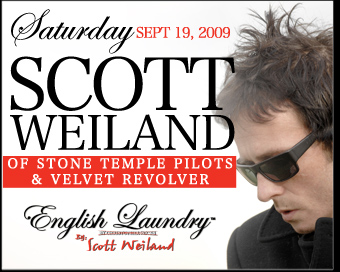 Saturday, September 19th 2009
Scott Weiland performance and Fashion Show – Starts at 10PM
This Satuday join Mansion and 944 Magazine for a special early performance by Scott Weiland of Stone Temple Pilots and Velvet Revolver. Featuring a special fashion show of his own clothing line: English Laundry.
Come early for complimentary admission and cocktails between 10 and 11PM. This is an early show so make sure to be there on time to see this exclusive mini-concert by legendary rocker, Scott Weiland. Then stay for a special performance by Swedish DJ superstar, John Dahlback.