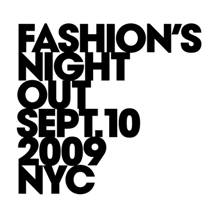 COME CELEBRATE FASHION'S NIGHT OUT
AT THE CARLOS MIELE BOUTIQUE
AT THE VILLAGE OF MERRICK PARK
September 10th at 7pm
Vogue Magazine, the Council of Fashion Designers of America, the City of New York and NYC & Company have teamed up to create an initiative to promote local retail and stimulate the economy.
Fashion's Night Out, a Global Fashion Celebration: The event will be held simultaneously in thousands of retail stores in the US, United Kingdom, Greece, Italy, Russia, France, Brazil, India, Spain, China, Germany, Japan and Taiwan.
Music, champagne and fashion will be the theme for the evening.
Official T-shirt already on sale at the Carlos Miele Boutique
100% of the proceeds raised from the sale of the official T-shirt will benefit the creation of the
National September 11 Memorial and Museum at the World Trade Center. (national911memorial.org)
Please visit www.fashionsnightout.com for more info.
Carlos Miele At the Village of Merrick Park
360 San Lorenzo Avenue, Store 1505
Coral Gables, FL 33146
305-567-2667
Thank you for using Soul Of Miami!