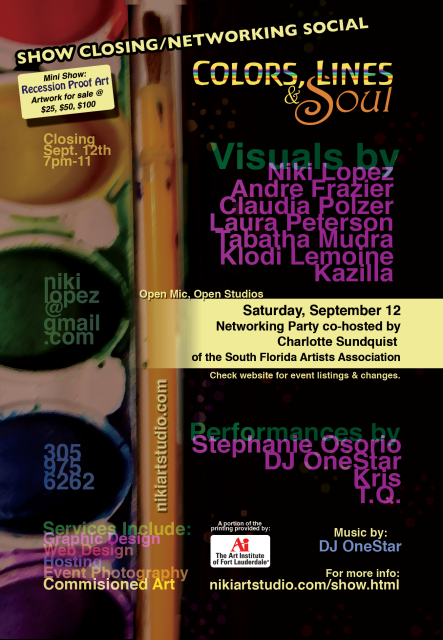 You are invited, please bring a friend & pass the word…
Closing event- Niki Art Studio & South Florida Artists Association Presents:
"Colors, Lines, & Soul "
@Sailboat Bend Artists Lofts
At 1310 SW 2nd Court, Fort Lauderdale FL 33312
Saturday, Sept 12th 2009, 7-11pm
Closing event for the month long show- Colors, Lines & Soul as well as a networking social co-hosted by the one and only Charlotte C. of SFAA. If you came to the opening, you know we had a GREAT time. If you missed it, here is your chance to redeem yourself.
This event will be co-hosted by Charlotte Sundquist of South Florida Artists Association. If you have ever been to ANY of her meetups, you know she brings the who's who in the local art community. This will be a networking social party, so bring your business business cards and good vibes!
Light refreshments will be served.
There will also be a mini show on the 3rd floor: Recession Proof Art. All art is priced UNDER $100. Great way to start collecting artwork.
There will be a $1 raffle for the closing of: Color, Lines, & Soul, for a studio photoshoot with Niki Lopez. Contact Nerissa Street for more info – nerissa@artistswhowork.com
This is a networking social, so come out and build collaborations with other local artists and entrepreneurs, socialize, view the art exhibit, support your local art scene, and have a GREAT time.
For the opening, through the rain- we had a great turn out, so rain or shine, this IS the place to be!
"Color, Lines & Soul", a creative spectacle curated by resident artist Niki Lopez, presenting a graphic feast that includes art, photography, design, and music.
Niki Lopez is a Graphic & Web Designer, new mom, and an emerging mixed media visual artist. She is also an active member and resident artist of the local art community: Sailboat Bend Artists Lofts.Niki and her work have been featured in WeMerge Magazine, The Sun-Sentinel, Mixed Martial Arts Magazine, Broward New Times, and Fort Lauderdale Home Magazine. Her work was also juried into The Soffer Collective's February 2009 PeepShow Poster show that benefited breast cancer awareness.
For more info:
http://www.nikiartstudio.com/show.html
http://www.meetup.com/southfloridaartists/calendar/11231089/
contact Niki Lopez at 305-975-6262
or nikilopez@gmail.com
Artists & Performers in this show:
Visuals:
Niki Lopez
Andre Fraizer
Claudia Polzer
Laura Peterson
Tabatha Mudra
Performance:
Stefanie Osorio
DJ OneStar
Kris
TQ
Nerissa Street
**Open Mic Time **
If interested in performing, contact Niki Lopez or DJ OneStar 305-775-1684.
A percentage of proceeds will go toward the launch of Be Organic's Bike Tour
Contact: nikilopez@gmail.com for details.