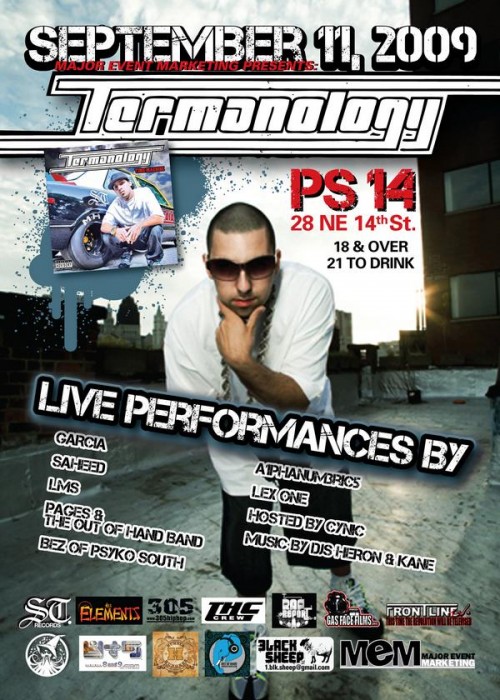 Major Event Marketing Presents:
"Termanology Live"
September 11th 2009
Doors open @ 10pm
PS14
28 NE 14 Street
Miami, FL 33132
Performing Live: Termanology, Garcia, Saheed, LMS, Pages (The Out of Hand Band), Bez (Psyko South), A1phaNum3ric5, Lex One
DJs: Heron & Kane
Host: Cynic
Massachusetts born rapper Termanology quickly rose from underground obscurity to working with some of hiphop's elite producers, particularly DJ Premier. Growing up in the streets of the predominantly Latino city of Lawrence, MA, informed the halfwhite, halfPuerto Rican MC's lyrics as he graduated from silly freestyles at age nine to fullfledged verses at the age of 15. He constantly had to travel back and forth from Boston to New York in order to pursue various opportunities, releasing his first material on vinyl in 2001. Closely tied to fellow Lawrence native and mixtape DJ Statik Selektah, Termanology earned the respect of Boston's hiphop scene with several 12″ releases as well as his Hood Politics mixtapes, which gradually came to feature more highly regarded lyricists like Royce da 5'9″ and Guru. After releasing the collaborative LP Out the Gate with producer DC the Midi Alien at the onset of 2006, he caught his big break when distinguished producer DJ Premier, whom he met three years earlier, finally gave him one of his signature, scratchladen beats. The result, "Watch How It Go Down," became an underground hit. Declaring himself the resurrection of his biggest idol, Big Pun, in the opening verse, the conscious hood anthem garnered the earnest MC tons of praise, landing him on the pages of many hiphop publications, notably The Source's "Unsigned Hype" and XXL's "Show and Prove" columns. The DJ Premier produced hit later appeared on the Hood Politics, Vol. 4 mixtape in November 2006.