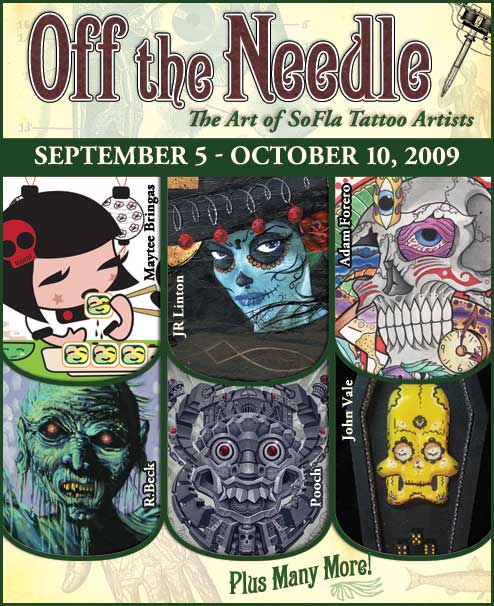 Off the Needle: The Art of SoFla Tattoo Artists
On exhibit September 5 – October 10, 2009
Opening Night Reception: Saturday, September 5 from 7-11pm
The idea is to showcase the fact tattoo artists work in more art mediums than just SKIN! That's where the name of the show comes from… "Off the Needle". A great tattoo artist is ALWAYS an artist artist also and we want to expose their artwork to a much wider audience of potential customers and fans! The artwork will be each artists personal artwork, it does NOT have to be tattoo related. There will not be photos of tattoos. There will be all kinds of artwork on all kinds of subject matter!
Regular Exhibition Hours September 6 – October 10, 2009
Mon-Thurs 11am-8pm; Fri & Sat 11am-9pm; Sun 12noon-6pm
Bear and Bird Boutique + Gallery inside/upstairs at TATE'S
4566 North University Drive / Lauderhill, Florida 33351 / Phone: 954-748-0181
www.bearandbird.com
www.tatescomics.com
Thank you for using Soul Of Miami!