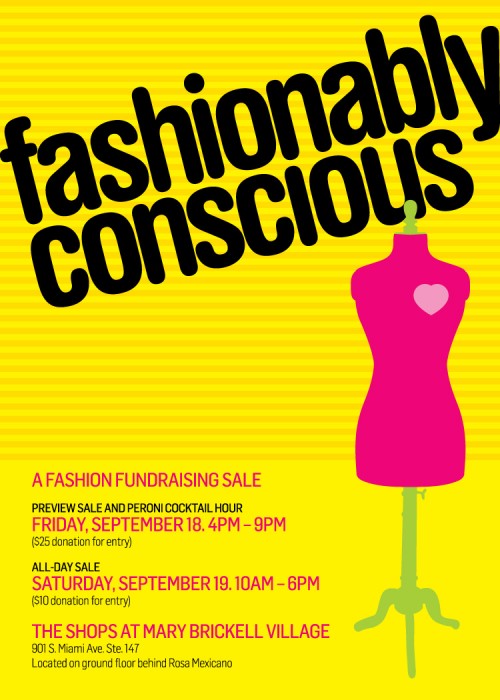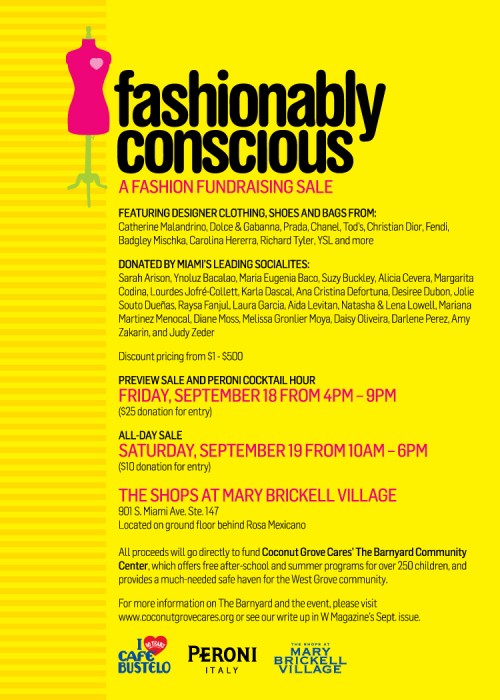 Take a walk in the shoes of Miami's highest profile socialites, literally. Fashionably conscious has collected top designer items from the most coveted closets in town for their third annual fundraiser. Attend the sale and you can walk off in Alicia Cervera's Yves Saint Laurent Sandals or snag Raysa Fanjul's fabulous Angel Sanchez Gown. Items at the sale are priced from $1 to $500. 100 percent of the fundraiser's proceeds go directly to Coconut Grove Cares' The Barnyard Community Center, ensuring kids in one of Miami's toughest neighborhoods are kept off the streets. With items priced so affordably and proceeds benefiting such a great cause, it's the perfect excuse to indulge in designer items!
FASHIONABLY CONSCIOUS: Miami's Leading Fashion Fundraiser with Designer Donations from Socialite Closets
WHAT: The highly anticipated annual Fashionably Conscious fundraiser, featuring donated designer items from the coveted closets of Miami's leading socialites and fashionistas, returns for its third year. This year's host committee, including Darlene Perez, Raysa Fanjul, Sarah Arison, Lourdes Jofré-Collett, Natasha & Lena Lowell, Suzy Buckley, and more have already donated more signature pieces than the fundraiser has had in any year before – ranging from Catherine Malandrino, Carlos Miele, Dolce & Gabanna, David Meister and Prada dresses to Chanel shoes; Tod's and Christian Dior bags; an Angel Sanchez ball gown; Roberto Cavalli and Gucci pants; and St. John, Fendi, Badgley Mischka, Carolina Hererra, Richard Tyler and YSL suits. All clothing and jewelry will be on sale to guests at discounted prices, ranging from $1 to $500. The weekend event will kick off with a VIP Preview Sale on Friday, featuring a happy hour sponsored by Peroni, at a $25 entrance fee. Saturday's all-day sale has a reduced $10 entrance fee. All proceeds will go directly to fund Coconut Grove Cares' The Barnyard Community Center, which offers free after-school and summer Programs for over 250 children, and provides a much-needed safe haven for the West Grove community.
WHEN: Friday, Sept. 18 from 4pm – 9pm – Preview VIP Sale and Cocktail Event
Saturday, Sept. 19 from 10am – 6pm
WHERE: Mary Brickell Village
901 S. Miami Ave. Ste. 147
Miami, FL 33130
WHO: Host Committee: Sarah Arison, Ynoluz Bacalao, Maria Eugenia Baco, Suzy Buckley, Alicia Cevera, Margarita Codina, Lourdes Jofre-Collett, Karla Dascal, Ana Cristina Defortuna, Desiree Dubon, Jolie Souto Dueñas, Raysa Fanjul, Laura Garcia, Natasha & Lena Lowell, Mariana Martinez Menocal, Diane Moss, Melissa Gronlier Moya, Daisy Oliveira, Darlene Perez, Amy Zakarin, and Judy Zeder.
Executive Committee: Ali Codina, Monica Defortuna, Silvia Larrieu, Annette Lopez, Annie Lord, Rebecca Mandelman, Marcia Martinez, Claudia Miyar, Maile Rodriguez and Liza Walton.
For more information on The Barnyard and its many charitable services, please visit www.coconutgrovecares.org or call (305) 446-6216.
BACKGROUND ON COCONUT GROVE CARES
Founded in 1948 by Elizabeth Virrick and Father Theodore Gibson to fight social injustice, Coconut Grove Cares (CGC) has a legacy of building a better community for the children and families in the West Grove neighborhood. CGC's The Barnyard is a very unique place—a safe-haven for children and a trusted resource for adults and social service providers. Over 400 children and families benefit from the Barnyard's After School and Summer Programs and their workshops and services for the adult community. All programs are free of charge and costs are kept to a minimum to ensure funds directly benefit families. I have personally spent time at The Barnyard, and it is inspiring to see how many children and families this place and programming helps.
Recently, The Barnyard has also become a meeting place for families displaced by the new construction and gradual gentrification of the West Grove. There has never been a greater need for the After-School and Summer Programs as students from as far as Carol City attend as a means to stay close to their neighborhood and extended family. As soon as The Barnyard doors open, the children come pouring in.