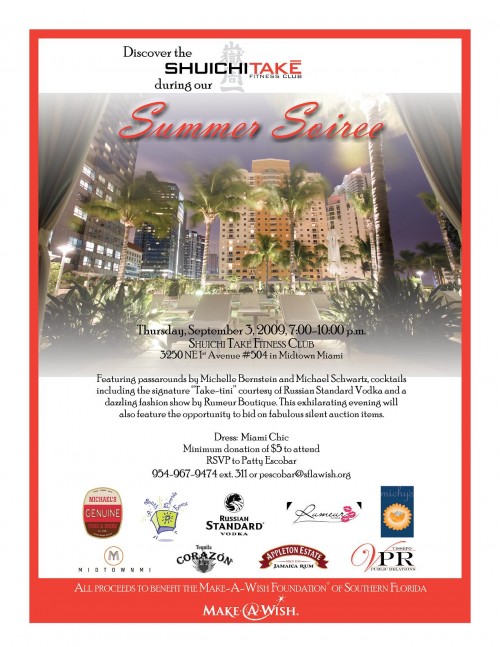 Discover the Shuichi Take Fitness Club during our Summer Soiree
Thursday, September 3, 2009, 7:00-10:00 p.m.
Shuichi Take Fitness Club
3250 NE 1st Avenue #504 in Midtown Miami
Featuring passarounds by Michelle Bernstein and Michael Schwartz, cocktails including the signature "Take-tini" courtesy of Russian Standard Vodka and a dazzling fashion show by Rumeur Boutique. This exhilarating evening will also feature the opportunity to bid on fabulous silent auction items.
Dress: Miami Chic
Minimum donation of $5 to attend
RSVP to Patty Escobar
954-967-9474 ext. 311 or pescobar@sflawish.org
All proceeds to benefit the Make-A-Wish Foundation® of Southern Florida.
Shuichi Take Fitness Club
305.856.4588
www.shuichitakfitness.com info@shuichitakefitness.com
Thank you for using Soul Of Miami!