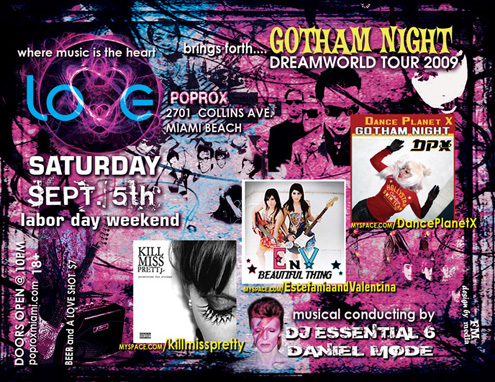 Miami Beach may finally hit nirvana with live music happening!
Labor Day Weekend, Saturday, September, 5, 2009- Poprox, Miami Beach's new premiere live music venue will provide an alternative to Miami Beach's hip-hop and house music dominated club & bar scene with: "love, what miami needs now!" – a new monthly alternative music night exposing, on inaugural night, "the gotham night dreamworld tour" feat. an electronic, edgey explosion of music currently just below the radar: Kill Miss Pretty, Env & Dpx and an art exhibit by award-winning designer of the next generation Hello Kitty : " Kawaii Universe! " by www.bleuhmeuh.com
Poprox, owned by Miami Beach nightlife pioneer, Robert Ziehm, musician/songwriter and live music Renaissance man Tony Alarcon and Multi Grammy Award winning producer A.B. Quintanilla, provides the perfect setting for a NEW multi-media monthly happening called "LOVE" hosted by Frank Morales of FM Media*, Monserrattz** & Teardrop*** . DJs Essential 6(Loveshack) and Daniel Mode (Berliner) and the LIVE music will bring electro, new wave and indie music to the hip-hop and house music dominated Miami Beach club scene. 'LOVE' will feature the best live music, performance art, visual arts & fashion shows.
The inaugural 'LOVE' night exposes the Gotham Night Dreamworld Tour feat. the "Pet Shop Girls" of Miami DPX, the new Miami pop rock twin sensations EnV along with their friends media darlings, electropunksters Kill Miss Pretty. Art exhibit by the award-winning designer of the next generation Hello Kitty of the world 'Bleuh Meuh Design ' Kawaii Universe '!!! www.bleuhmeuh.com
*FM Media is Frank Morales ( Ran longest running one-nighter on Miami Beach:The Church, Managing Street Promotions for Ultra Music Festival for 11 years, Creator/promoter for Mass, hosted a Radio show on Beach Radio, Salvation promotions and founder of FM Media, which involves flyer design, marketing & promotions.).
**Monserrattz is lead singer/songwriter/ co-producer of DPX, host of Twisted Newz Talk Radio (owner of the fabled "Ãœnderland Privat", South Beach's Electro-a-Go-Go!, host of the underground nachts at "Edelweiss" & writer of the Margaritaville-ish & Copa Cabanaesque novelty song 'South Beach'.)
*** Teardrop former WVUM 90.5 DJ & host of the All Request Show & The Industrial Music Show, promoter for Red Room, The Church, Cloud 9 among others, and all-around Scene-ster-girl of the Miami Ãœnderground.