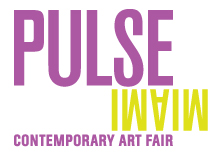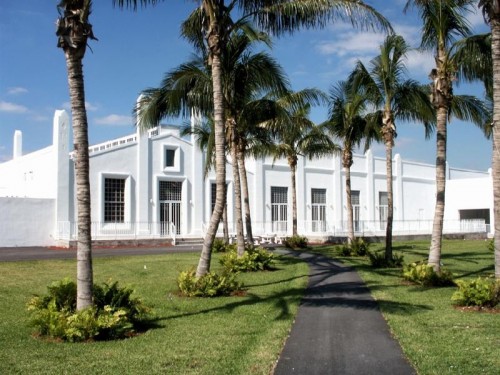 PULSE Miami Announces Relocation to The Ice Palace for its Fifth Edition
Helen Allen, Director of PULSE Contemporary Art Fair announced today that PULSE Miami is taking over The Ice Palace in downtown Miami. The large venue offers PULSE a more dynamic space for the exhibition of art and is conveniently located within minutes of the Venetian and MacArthur Causeways to Miami Beach. The layout in the former ice factory, built in the early 1920's, will be designed to utilize the vast outdoor area to enhance visitors' experience and additional cultural programming. In just five years, PULSE Miami has grown into a major international exhibition, which has frequently been hailed as the most significant art fair in Miami after Art Basel Miami Beach.
"We are thrilled to be moving to The Ice Palace", said Helen Allen. "We are planning to work on the space to maximize its full potential by implementing a series of improvements such as the layout, lighting, and wider aisles. The caliber of exhibitors we are bringing will undoubtedly allow us to produce an incredible fair. We are also pleased to remain the anchor of the Miami/Wynwood area".
The Ice Palace Film Studios, typically referred to as The Ice Palace, is a former ice factory centrally located in Miami's Media and Entertainment District. It stands at the heart of the new cultural center, neighboring the Miami Art Museum, CIFO, the Symphony Theatre and The Adrienne Arsht Center for the Performing Arts of Miami Dade County. Boasting over 145,000 square feet, Art Deco architecture and verdant lawns, it will constitute an exceptional and easily accessible setting for PULSE Miami.
PULSE Miami 2009 will feature over 75 exhibitors in its main section, with an additional 10 galleries in its IMPULSE section. The Fair will also present its signature programs: the installations and large-scale sculpture program, PULSE Performance, PULSE Play>, and, on Saturday, December 5, 2009, it will award the PULSE Prize in honor of Adriaan Van der Have of TORCH GALLERY who passed away this spring.
The VIP Private Preview Brunch will be held on Thursday, December 3, at The Ice Palace from 10am to 1pm.
Opening Hours:
Thursday, December 3: 1pm – 8pm
Friday, December 4: 10am – 7pm
Saturday, December 5: 10am – 7pm
Sunday, December 6: 10am – 7pm
Location: The Ice Palace- 1400 North Miami Avenue, Miami, FL 33136
About PULSE Contemporary Art Fair:
PULSE Contemporary Art Fair is the leading US art fair dedicated solely to contemporary art. Held annually in New York and Miami, PULSE bridges the gap between main and alternative fairs and provides participating galleries with a platform to present new works to a strong and growing audience of collectors, art professionals and art lovers.
The Fair is divided into two sections and is comprised of a mix of established and emerging galleries vetted by a committee of prominent international dealers. The IMPULSE section presents galleries invited by the Committee to present solo exhibitions of artist's work created in the past two years.
The Miami debut of PULSE Performance will feature daily performances and concerts by young emerging artists such as Maria Jose Arjona, who was recently invited to be part of a workshop with Marina Abramovic, and whose daily performances will be among the highlights of the new programming. Notable musical talents in the outdoor concert and performance series include The Vivian Girls, The Blow, and Exene Cervenka.
Additionally, PULSE will present its signature program of large-scale sculptures and installations throughout the fair's exhibition halls and lawn, as well as the PULSE Play> video lounge curated by João Ribas, Curator of Exhibitions at the MIT List Visual Arts Center, Cambridge, MA. Danny Baskin and Andy Schrock, featured in PULSE PRESENTS at ACADEMY 2009 hosted by Conner Contemporary Art, have also each been awarded space to present new projects at the fair.
Each year, one artist featured in IMPULSE, the section of the fair dedicated to solo artist presentations, is awarded a $2,500 cash prize. This year's PULSE Prize will be awarded in honor of Adriaan van der Have, Founder and Director of Torch Gallery, who was an inspiring force in the art world for his dedication to the promotion of emerging artists. The winner will be announced Friday, December 4, 2009 during the PULSE Party at PLUNGE at the Gansevoort South.
PULSE Miami 2009 Exhibitor List
55, Shanghai; Angell Gallery, Toronto; Angles Gallery, Santa Monica; Arróniz Arte Contemporáneo, Mexico City; Jeff Bailey Gallery, New York; Baró Cruz, São Paulo; Galerie Anita Beckers, Frankfurt; Bitforms Gallery NYC, New York; Brancolini Grimaldi Arte Contemporanea, Rome, Florence; Rena Bransten Gallery, San Francisco; BravinLee Programs, New York; Catharine Clark Gallery, San Francisco; Conner Contemporary Art, Washington; Conrads, Duesseldorf; Davidson Contemporary, New York; DCKT Contemporary, New York; Dean Project, New York; EDS Galeria, Mexico City; Espacio Contemporary, New York; Dean Project, New York; EDS Galeria, Mexico City; Espacio Liquido, Gijon; Lukas Feichtner Galerie, Vienna; Rosamund Felsen, Santa Monica; Fred, London; FTC. Berlin, Berlin; Caren Golden Fine Art, New York; Guidi & Schoen Arte Contemporanea, Genova; Patrick Heide Contemporary Art, London; Richard Heller Gallery, Santa Monica; Hosfelt Gallery, San Francisco, New York; Pippy Houldsworth, London; Rebecca Ibel Gallery, Columbus; La Industria, San Juan; Gallery Joe, Philadelphia; Amelia Johnson Contemporary, Hong Kong; Priska C. Juschka Fine Art, New York, NY; GalerieKleindienst, Leipzig; Kopeikin Gallery, West Hollywood; Elizabeth Leach Gallery, Portland; Richard Levy Gallery, Albuquerque; Diana Lowenstein Fine Arts, Miami; Lyons Wier Gallery, New York; M+B, Los Angeles; Maior Pollença, Mallorca, Palma de Mallorca; Marx & Zavattero, San Francisco; MasART Galería, Barcelona; Andrea Meislin Gallery, New York; Nina Menocal, Mexico City; Mkgalerie Rotterdam; Berlin; Yossi Milo Gallery, New York; Mixed Greens, New York; Mark Moore Gallery, Santa Monica; Morgan Lehman, New York; Nieves Fernández, Madrid; One and J. Gallery, Seoul; Open Gallery, London; Pierre François Ouellette Art Contemporain Inc., Montréal; P·P·O·W Gallery, New York; PDX Contemporary Art, Portland; Perugi Artecontemporanea, Padua; Galeria Raquel Ponce, Madrid; Emmanuel Post, Leipzig; Postmasters, New York; Max Protetch, New York; Lora Reynolds Gallery, Austin; Galerie Jean Luc & Takako Richard, Paris; Yancey Richardson Gallery, New York; Galerie Roemerapotheke, Zurich; Galerie Stefan Roepke, Cologne, Madrid; Julie Saul Gallery, New York; Schroeder Romero, New York; Carrie Secrist Gallery, Chicago; Galeria SENDA – Espai 2NOU2, Barcelona; Siemens_artLab, Vienna; Sienese Shredder Editions, New York; Silverlens Gallery, Manila; Charlie Smith London, London; Patricia Sweetow Gallery, San Francisco; Gallery Sun Contemporary, Seoul; Margaret Thatcher Projects, New York; Galleri Thomassen, Gothenburg; Torch, Amsterdam; Virgil de Voldere Gallery, New York; Von Lintel Gallery, New York; Rick Wester Fine Art, New York; Winkleman Gallery, New York; Witzenhausen Gallery, Amsterdam, New York; Bryce Wolkowitz Gallery, New York; Galerie Nordine Zidoun, Luxembourg, Paris; Pavel Zoubok Gallery, New York; Zürcher, New York, Paris.
IMPULSE Miami 2009 Exhibitor List
2x2projects, Amsterdam; AMT │ Torri & Geminian, Milan; Artericambi, Verona; Arthouse at the Jones Center, Austin; Black & White Gallery, New York; CTRL, Houston; Galerie Caprice Horn, Berlin; Hosfelt Gallery, San Francisco, New York; Charlie James Gallery, Los Angeles; Daneyal Mahmood Gallery, New York; Packer Schopf Gallery, Chicago; Andrew Rafacz, Chicago; Lyle O. Reitzel, Miami, Santo Domingo; Spinello Gallery, Miami; Galeria Valle Orti, Valencia.
For more information about PULSE Contemporary Art Fairs, please visit
www.pulse-art.com or call +1 (212) 255-2327