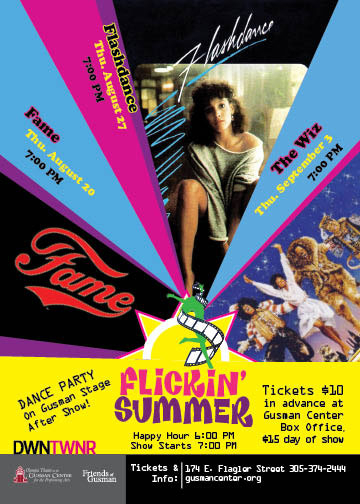 This Thursday, August 20 @ 7:00 PM
Flickin' Summer: FAME
Take three big dance movies from the 1980's, mix in one part happy hour, one mart neighborhood "meet up", sprinkle liberally with cocktails, then top off with a retro dance party on the Gusman Stage featuring DJ DJ Pauer – you've got the makings of FLICKIN' SUMMER a new neighborhood film series at the Gusman.
The fun starts with a happy hour at 6:00 PM, the film FAME screens at 7:00 PM and the dancing begins around 9:30 PM. Throughout the evening there'll be giveaways and special contests. Tickets are $10 in advance and $15 "day of show".
The series sponsored by DWNTWNR, Friends of Gusman, and Miami Parking Authority is the perfect answer to a long hot summer – fun flicks, air-conditioned theater, dance music, and libations.
The party continues for the next three Thursdays!
Fame – Thursday, August 20, 2009 @ 7:00 PM
Flashdance – Thursday, August 27, 2009 @ 7:00 PM
The Wiz – Thursday, September 3, 2009 @ 7:00 PM
DJ Pauer spins after each film!
Tickets and info available here!