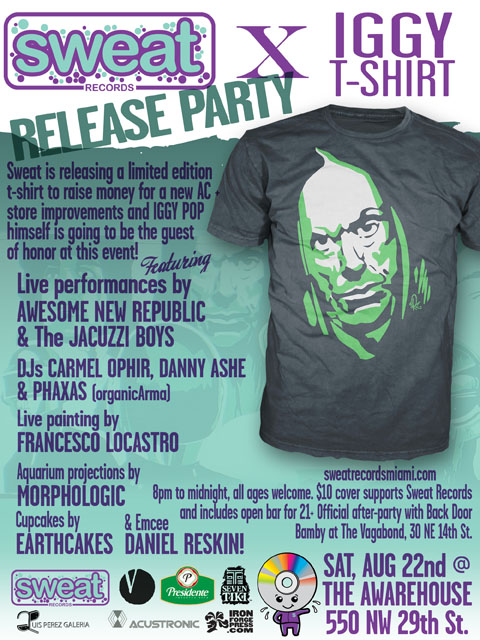 Saturday, August 22, 2009 at 8:00pm
The Awarehouse
550 N.W. 29 St. Miami, FL
Facebook RSVP
This month, Sweat will be coming out with a series of limited edition t-shirts featuring the image of Iggy Pop from Sweat's now-iconic "Wall of Idolatry" mural.
On Saturday, August 22nd at the gorgeous Awarehouse space in Wynwood, we're having a crazy awesome show + party to celebrate the release of the shirts. Here's some of the fun stuff we have in-store for you:
*Full-out live performances by Awesome New Republic and the Jacuzzi Boys
*DJs Carmel Ophir, Danny Ashe +Ph Axas
*Live painting by Francesco LoCastro
*Aquarium Projections by Morphologic
*Free liquor provided by Bacardi
*Earthcakes delicious Vegan cupcakes
*More goodies TBA!
We are extremely honored to announce that IGGY POP HIMSELF will be the guest of honor at the event! In case you weren't aware, he's actually a South Florida resident and like us, is happy to call sunny Miami home. The whole shebang should bring us over the top to be able to replace our AC and finally get back to business so save the date!
Admission is only $10, and there will be OPEN BAR!
Awesome after-party with Back Door Bamby at The Vagabond! 30 ne 14th St.