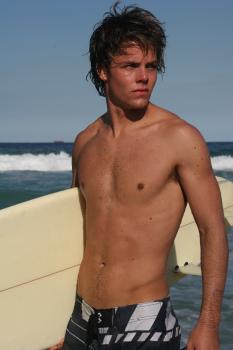 NEWCASTLE
'You're Only Young Forever Once'
Saturday, Aug 9
2:00 PM Wine Reception & Private Tour
4:00 PM Film Screening
The Wolfsonian-FIU
1001 Washington Avenue
Miami Beach, FL 33139
corner of 10th Street and Washington Avenue
TICKETS
$11 Non-Members
$7 Members
WINE RECEPTION
Join us at the Wolfsonian's Dynamo Cafe at 2pm for a wine reception before being led on a guided tour of the two wonderful exhibitions, Beauty on The Beach: A Centennial Celebration of Swimwear and Sun Stroke Stimulus. Tours will begin at 2:30 and 3:00pm
Writer and director Dan Castle crafts an impressive feature debut-combining the ravishing elements of surfing movies with a compelling family drama. The cast is an incredible ensemble of up-and-comers including Xavier Samuel of the upcoming Twilight saga, Eclipse that make both the visceral surfing sequences and tender emotional scenes seem effortless. While the brothers' complicated relationship forms the crux of the film, the waves and the beaches of Newcastle can also rightly claim a starring role.