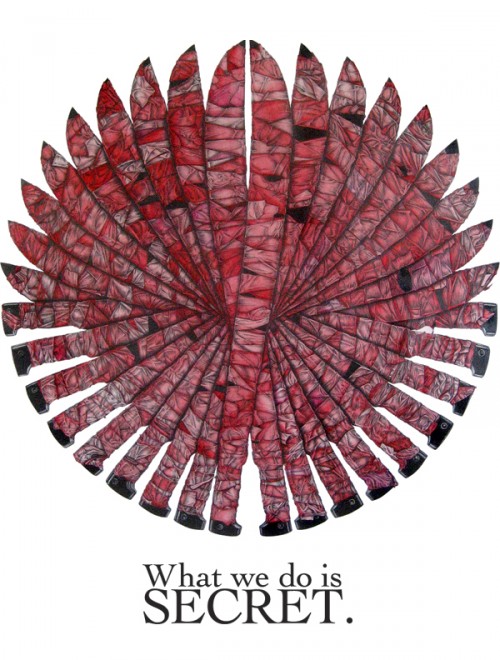 MANNY PRIERES, "MENDED" (DETAIL), 52.5″ x 36.75″, GRAPHITE AND WATERCOLOR ON PAPER, 2009
SPINELLO GALLERY / DESIGN DISTRICT: 155 NE 38 ST, No. 101, Miami, FL – 33137
SOLO EXHIBITION: Manny Prieres / "What We Do Is Secret."
OPENING RECEPTION: Saturday, August 29th, 7-10pm
Spinello Gallery (155 NE 38 St., No. 101, Miami Florida – 33137) is proud to present the much-anticipated solo exhibition by one of Miami's original stars, Manny Prieres, "What We Do Is Secret." The Cuban-American artist will feature a suite of haunting graphite and watercolor works on paper and sculpture . This will be Prieres' debut exhibition with the gallery.
Prieres explains, "Every collision leaves a trace behind: debris, a trail of residue that marks the site where violence took place." The work of Manny Prieres is that sort of remnant, the product of the clash between a traditional, temperamental heritage, and an intense, idiosyncratic counterculture. During the process of this convergence, a series of artifacts are created. They stand at the threshold of a new folklore: they are the iconography of a new tradition.
In this sense, Manny Prieres is an archaeologist, one that has painstakingly and lovingly preserved the objects of an unexplored civilization: their symbols, their gods, their rituals, and their lore. These artifacts bring up tales from the artist's personal history, yet as a whole they create new narratives that, despite having hybrid elements from multiple sources of influence, are nevertheless moving towards an entirely different place.
Manny Prieres has been an active member of the Miami art scene for over ten years. From 1997-2004, Prieres ran one of Miami's first influental alternative art spaces, BOX, alongside Jose Reyes and Leyden Rodriguez-Casanova. BOX played a crucial role in the development of the Miami art community.
Exhibition through September 26th, 2009.