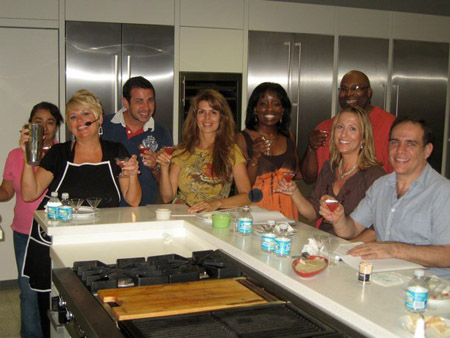 Hello darlings! It's been crazy hot and the humidity has been relentless! Besides living the life aquatic, how can one in Miami cool off? Why not spend a sultry Saturday in the air conditioned designer kitchen at La Cuisine Gourmet and spend a few hours with La Diva?
Lively, social and full of laughs, learn all about making the modern cocktail along with a sophisticated but simple selection of appetizers to throw your own little soiree! Or just come and enjoy yourself with a few apps and cocktails! Hip beats supplied by DJ Nevah L8 (for dinnah!)
Next class is August 1!
Classes are $78 for one or two can come prepaid cash or check for $145! Credit cards happily accepted!
Click on the link to get all the DIVALICIOUS details.
Book your seat now! llafata@atlanticbb.net
(Those Miami Sunset cocktails went down pretty easily!)
La Diva sends out a HUGE THANK YOU to her new liquor sponsors:
Rosangel Tequila, Campari and Skyy vodka!
La Diva's making some sexy new drinks using the fabulously smooth Rosangel, the world's first Hibiscus infused tequila….and the classic standard aperitif Campari gets a remake with my Miami Sunset Cocktail! Or how about a Lemongrass Ginger martini with all natural Skyy Infusions Citrus vodka?
mmmmm….you HAVE to come to the class to taste them, these sassy cocktails are not available anywhere else!
Laura Lafata
President
La Diva Cucina Inc.
http://www.ladivacucina.com/
http://ladivacucina.blogspot.com/
305 297 8121
Thank you for using Soul Of Miami!