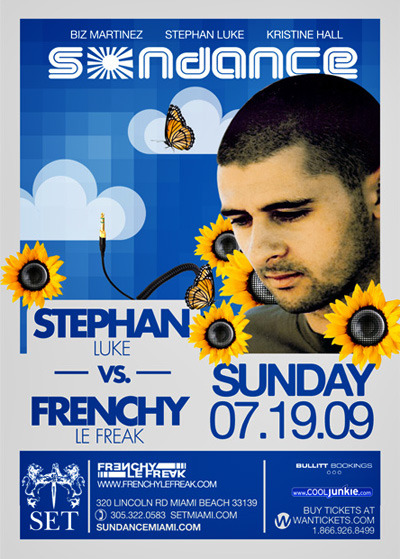 If you have trouble reading this email, go to the online version.
On Sunday, July 19th Stephan Luke vs Frenchy le Freak @ Sundance (SET)… an East vs West coast thang. Sundance resident, Steph needs no intro. He's been movin' & shakin' the east coast from Miami to the big apple since the 90's. Frenchy, originally from the South of France has a rep for organizing some pretty wild parties in Frisco… San Fran that is. From Ruby Sky to Vessel. Get to know Frenchy, visit http://www.myspace.com/frenchylefreak
Sunday, August 2nd Sundance welcomes back Sultan along side his brilliant label mate Ned Shepard. The canadian pair have been on fire in the studio lately, turning out remixes for Dirty Vegas, Nadia Ali, Sander Kleinenberg & then some. As for Sultan, his career is headed north (UP)! Nominated for "Best Progressive Artist of 2009" at the Beatport Music Awards, not mention he just released a "Nubreed" mixed compilation on the industry's most reputable Dance label/brand, Global Underground.
Event info & to RSVP call or text 305.322.0583.
Set: 320 Lincoln Rd. Miami Beach, Fl. 33139