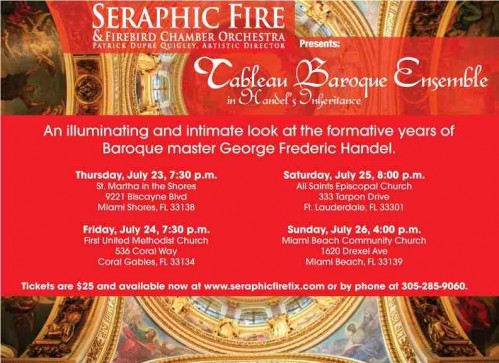 Seraphic Fire Presents: Tableau Baroque in Handel's Inheritance
Par ot Seraphic Fire's NEW Summer Series. Join us for Handel's Inheritance, a musical journey through the formative years of this giant of the Baroque period. Starting in Halle, Germany, we trace his travels through Italy and into England, savoring the cosmopolitan blending of French, Italian, and Germanic styles so popular in Europe at he time. Hear the music of Handel's youth, from chapel, chamber, and stage, as these influences blend into the unmistakable sound of the mature master. Through the compositions of Corelli, Keiser, Schelle, J.P. Krieger, Zachow, Steffani, Handel himself, and others, experience the sonic tapestry of the world in which this young composer became the man we now celebrate. Tableau Baroque is an American chamber music ensemble dedicated to bringing the music of the Baroque to life through emotionally connected, historically informed, illuminating performances. Core members Ian Howell, countertenor, and Henry Lebedinsky, early keyboards, are joined for this concert by Michael Albert, baroque violin/countertenor, and Brian Howard, baroque cello.
Purchase Tickets online
Thursday, July 23, 2009 at 7:30 PM
St. Martha in the Shores
9301 Biscayne Blvd
Miami Shores, FL 33138
Phone: (305) 285-9060
Friday, July 24, 2009 at 7:30 PM
First United Methodist Church, Coral Gables
536 Coral Way
Coral Gables, FL 33145
Saturday, July 25, 2009 at 8:00 PM
All Saints Episcopal Church, Fort Lauderdale
333 Tarpon Dr
Fort Lauderdale, FL 33301
Sunday, July 26, 2009 at 4:00 PM
Miami Beach Community Church, Miami Beach
1620 Drexel Ave
Miami Beach, FL 33139
Website: seraphicfire.org
E-Mail: info@seraphicfire.org
Thank you for using Soul Of Miami!