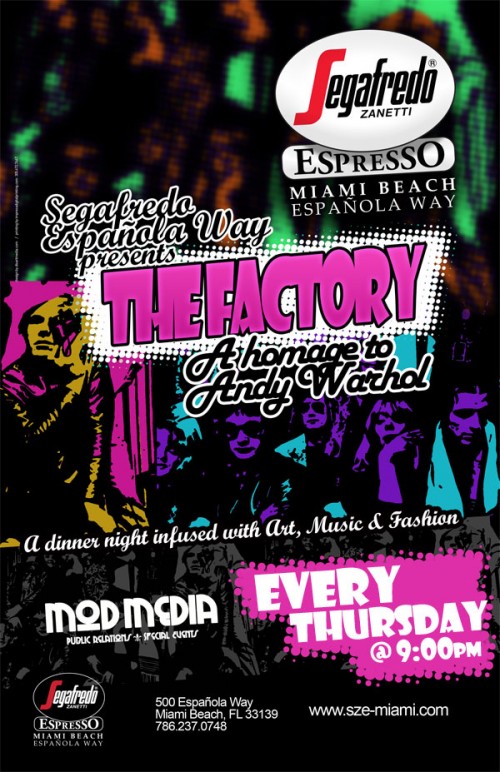 MOD MEDIA TAKES YOU BACK TO THE FACTORY, AS WE PRESENT AN INNOVATIVE POP INFUSED DINNER PARTY AT SEGAFREDO ON ESPANOLA WAY
"One's Company, Two's a Crowd, and Three's a Party" -Andy Warhol
Who: MOD Media in conjunction with Segafredo Espanola Way
What: MOD Media invites you back to The Factory, a weekly pop dinner party held at Segafredo on Espanola Way, paying homage to the infamous Andy Warhol. Come and experience the most talked about and innovative dinner party concept, as we cater to professionals, local press and fashionistas looking to network with industry figures. Set in the heart of South Beach, Segafredo is the ideal destination for Miami's very own version of the factory. With its vintage décor, retro art work, creatively themed cocktails, and savory menu, this unique experience will not only ignite your taste buds but make The Factory dinner party a permanent addition to your Thursday night plans!
About Segafredo Espanola Way: www.sze-miami.com Segafredo Zanetti Espresso Cafe, the only global café with Italian credibility and with over 570 cafés worldwide, offers a multi-sensorial experience reflecting the lifestyle of the quintessential Italian café. The constant drive for excellence exhibited by the Segafredo family is evident in product quality, efficient service and a friendly atmosphere all of which makes a positive difference in the quality of life of the customers. "Tradition becomes useless if not positioned in our version of the future."
Where: Segafredo Espanola Way
500 Espanola Way
Miami Beach, FL 33139
When: Every Thursday, 9pm.