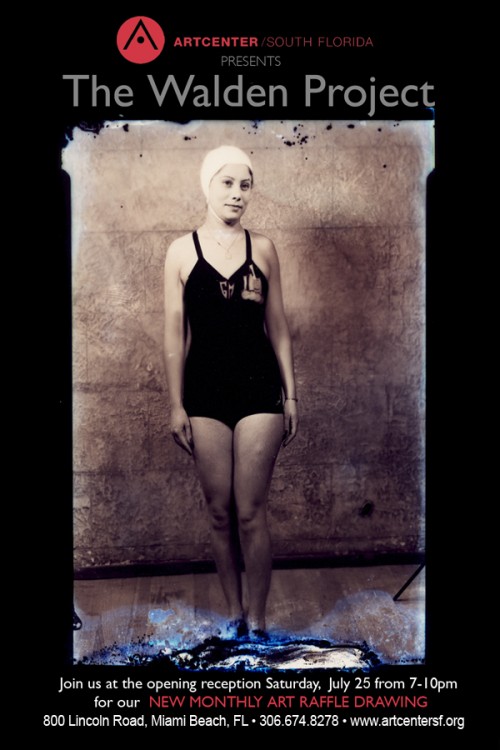 ArtCenter/South Florida presents The Walden Project Opening Reception July 25, 7-10pm with an art raffle drawing.
Carl Walden
A Miami Photograher's Legacy
Many of Walden's photos depict entertainers from the 40s through the 70s that performed in Miami including Billy Graham, Walter Winchell, Gipsy Rose Lee and Charles Atlas. A native of Sweden , he began his vocation as photographer to the stars at Harper's Bazaar and later became the official photographer of the McFadden Deauville Hotel (demolished in 1958).
one-three collective
Hugo Moro, Venessa Monokian, Natasha Duwin and Jules Lusson
In 2007, one-three art collective members Duwin, Lusson, Monokian and Moro completed a special six-month residency at ArtCenter/South Florida to develop The Walden Project. This entailed the organization of vast archives from The Carl Walden Studios, bequeathed to one-three member Lusson in 2003 upon the death of the artist's wife, Mrs. Natalie Walden. Photographer Peggy Levison Nolan joined the collective in selecting large-format negatives from the archives, mostly to generate prints highlighting Walden's talent and as windows into the culture of Mid-century Miami. "We aspire to grasp the attention of South Florida's historical institutions with the appropriate facilities to preserve The Carl Walden Archives," said one-three art collective members. "Whether shown in whole or in part for the use of scholars and artists, our mission is to re-introduce the works of this great photographer and to pay homage to his legacy."
Opening Reception, July 25th from 7-10 pm
The Walden Project Carl Walden one-three collective
The ArtCenter/ South Florida Gallery is located at 800 Lincoln Road and Meridian Avenue, Miami Beach, Fl.
In conjunction with the opening reception we will have a drawing to win a painting by artist W. Andre Allen in our new monthly raffle. Tickets available at the Gallery.
Open Studios
ACSF resident artists will open their studios to the public at the 800, 810 and 924 Lincoln Road