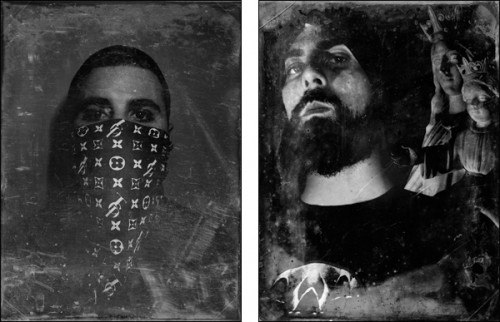 PORTRAITS BY ALVARO CONTRERAS
(LEFT: TYPOE / RIGHT: SANTIAGO RUBINO)
SPINELLO GALLERY / DESIGN DISTRICT: 155 NE 38 ST, No. 101, Miami, FL – 33137
ENCORE / SANTIAGO RUBINO & TYPOE: Saturday, July 11, 7-10pm
SPINELLO GALLERY (155 NE 38th Street, No. 101, Miami FL – 33137) is proud to present "ENCORE," a two person exhibition featuring some old favorites as well as new works by infamous crossover Miami street artists, TYPOE and Santiago Rubino. "Encore" celebrates the inclusion of both artists in the new internationally released book, "MIAMI GRAFFITI," a comprehensive 172 page book documenting works by contemporary Miami Graffiti artists containing over 200 full-color images by photographers James & Karla Murray, published by PRESTEL.
SPINELLO GALLERY prides itself in exhibiting intelligent works of art in every medium by contemporary local Miami emerging artists. SPINELLO GALLERY has become the playground for unorthodox and experimental artists who don't easily fit into the confines of the traditional gallery space. SPINELLO GALLERY is steadily making headway in the Miami Art Scene and beyond becoming a contender in the Art World.
SIGNED BOOKS WILL BE AVAILABLE AT THE OPENING – $25