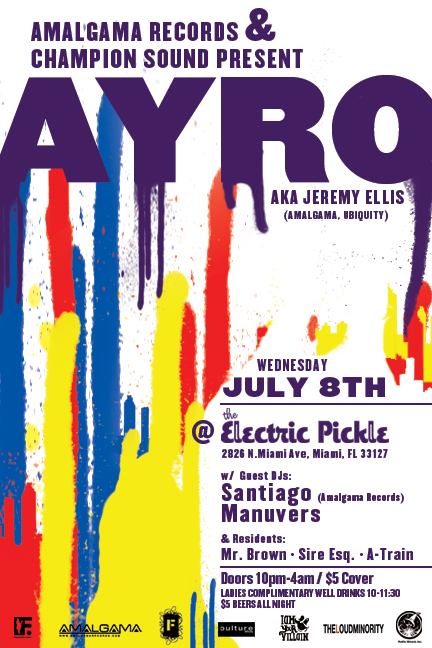 Wednesday, July 8th
@ The Electric Pickle
Doors at 10pm
$5 Cover
CHAMPION SOUND & AMALGAMA RECORDS Present…
Jeremy Ellis aka Ayro (Ubiquity Records/ Detroit) Live on the MPC & Effects
http://www.myspace.com/jeremyellisayro
Guest DJs:
Santiago (Amalgama Records)
Manuvers
w/ Residents:
Mr. Brown
Sire Esq.
A-Train
Hosted by I Am Your Villain/ Rod Deal/ The Loud Minority
**Check out Pictures from our Recent events courtesy of Chez Mille**
http://web.me.com/chezmille/Che(z)_Mille/My_Albums/Pages/Champion_Sound.html
Che(z) Mille http://web.me.com/chezmille
Frank 151 U-God & Grand Puba Record Release Party w/ Basic Vocab
Located @ The Electric Pickle
2826 N. Miami Ave.
Miami, FL 33127
Drink Specials:
Free Wells for Ladies till 11:30pm
$5 Beers All Night
Supported By:
Amalgama Records: http://www.amalgamarecords.com
Frank 151: http://www.Frank151.com
Public Wizard: http://www.PublicWizardInc.com
Culture Kings: http://www.CultureKings.com
Say Uncle: http://www.SayUncleInc.com
Champion Sound Web Links:
Facebook http://www.facebook.com/ChampionSound
Myspace: http://www.myspace.com/TheGrandGroove
More on Jeremy Ellis…
AYRO is a sonic chef who mixes ingredients from across the musical spectrum. The freestyle live set specialist, pianist, singer and MPC virtuoso sounds nothing like you've heard before. Audiences stand in awe while witnessing the joyful fury that is his performance style. His fans often resemble that of students as his wildly intelligent, yet unforgivingly danceable tracks perplex the most eager and adept melodic minds. Combining a lifetime of classical training with a meticulous obsession with sound, Ellis demonstrates himself as one of the forerunners of a new era in electronic music pushing instruments beyond their creators' intentions. He has been called the voice of Detroit's new sound and even acclaimed by Stevie Wonder himself. In a city with such important heritage as Motown and the birthplace of Techno he was awarded Best Electronic Artist 2009 by Real Detroit Magazine. Ayro has worked with such luminaries as Carl Craig, John Beltran, Recloose, John Arnold, Underground Resistance, Bugz in the Attic and Alton Miller to name a few. With poetic lyrical flow and melodic ingenuity combined with vintage sounds like the Rhodes piano and the Moog with raw sounds of the street through the earthly growl of the 808. Ayro's intrinsic use of the MPC has grown into a wild toad's ride that hasn't been seen since Hendrix non-chalant shredding of guitar licks with his teeth.