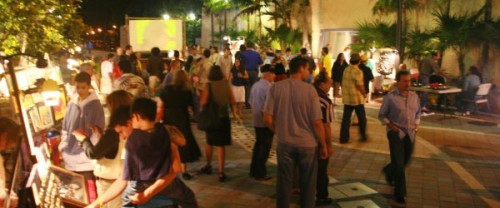 Viernes Culturales / Cultural Fridays
FREE this Friday: Art, Music and Cuisine at Calle Ocho
Miami's Best Arts and Music Festival on the last Friday of every month
Friday, June 26th, 2009. From 6:30 – 11:00 p.m.
On SW 8th Street (Calle Ocho) between 13th and 17th Avenues
SCHEDULE OF EVENTS
7:00 p.m. – Free History Walking Tour of Little Havana led by RENOWNED HISTORIAN Dr. Paul George. (Meet in front of Tower Theater)
Events at Main Stage (15th Avenue and SW 8th Street)
7:00 – 7:30 p.m. – Laura Cozar
7:30 – 8:00 p.m. – DAF Studios
8:00 – 8:30 p.m. Danny Ricardo
8:30 – 9:00 p.m. – Teatro Flamenco Carmen Rubio
9:00 – 10:00 p.m. – Los Soneros de Miami
10:00 – 11:00 p.m. – Malena Burke
MUSIC / MUSICA
Malena Burke (10:00 – 11:00 p.m.)
Malena was born in Havana, Cuba. She began her musical studies at various art schools when she was only 18 years old and graduated from the Amadeo Roldan Conservatory with diplomas in violin, guitar, and musical writing. Her singing career developed by coincidence. Malena received her initial proposal to perform at the anniversary of the Casino Parisien, at the Hotel National, Havana's most distinguished hotel. She accepted and performed for the first time together with her mother, the legendary Cuban singer Elena Burke. The following year, she was selected to perform as headliner at the Tropicana, where continued as principal performer for five years. Then, she proceeded to perform at the most acclaimed nightclubs in Havana, including the Riviera, Havana Hilton and Capri showrooms. With her success also came demands for tours. Malena traveled to Argentina, Colombia, Mexico, Peru, Panama, Germany, Austria, Italy, Finland, Holland, and Venezuela, where she decided to stay in 1993. In Caracas, she performed continuously at many of the best places like EI Palacio del Mar, La Boite, The Seasons, and went to perform to other cities, including Valencia and Barquisimeto. In 1995, Malena came to the United States. She has been to New York, Puerto Rico, Los Angeles, Dominican Republic and Venezuela to participate in festivals and concerts. Malena has recorded "Salseando", "Cuba on Fire", "Malena Burke", "Super Cuban All Stars", "Bolero Jazz: Misty", "A Solas Contigo" vol. I & II, and "Contigo en la Distancia".
Los Soneros de Miami (9:00 – 10:00 p.m.)
Los Soneros de Miami is a group formed by young Cuban musicians with the aim of preserving the authentic sound of Cuban music: Son. They are known for keeping the characteristic format by employing traditional acoustic instruments.
Teatro Flamenco Carmen Rubio (8:30 – 9:00 p.m.)
Carmen Rubio, native from Madrid, graduated with honors from the Royal Conservatory of Music and Dance in Madrid. She's had an outstanding career as prima ballerina of the best companies in Spain. Carmen has a dance group that combines the traditional Spanish dances along with the very famous Flamenco. Teatro Flamenco Carmen Rubio comprises dancers and musicians from Spain, United States and Latin America; it is a young company focused on the Flamenco with strong roots in theater.
Danny Ricardo (8:00 – 8:30 p.m.)
Danny Ricardo was born in Panama and started his career at an early age. He began studying singing since the age of 5 in choral music Gospel of Panama. Danny has represented his country at several international festivals such as "Evento Centroamericano de interpretes", Miss Universe 2002 pre-show, Festival de la Canción de Viña del Mar in Chile, thus highlighting his home country Panama. Danny Ricardo just recorded his first album that will be released in the upcoming month of June.
Laura Cozar (7:00 – 7:30 p.m.)
Laura is from a small town called Ronda, situated south of Spain. She was born under the sign of Cancer, which makes her a dreamer, creative and with great sensitivity. From a very early age she discovered her artistic talent and the need to expose it. She soon felt the need to perform on stage. At the early age of 10 she participated in her first musical theater and continued to do so until she finished high school. At 24 years he decided to go to Madrid in search of new experiences. Laura now lives in Miami and remains on track of achieving her biggest dream, her first album.
ART / ARTE
Cremata Gallery
Cremata Gallery is pleased to present Argentinean Visions: from Modernism to Contemporary Aesthetics, an exhibition featuring an exciting collection of acrylics, oils, collages, inks, and watercolors, from the fifties to today. From Italo-Argentinean Modernist masters Bruno Venier and Carlo Monzani, who has exhibited at the Guggenheim Museum in NYC, to contemporary artists living in Argentina. We are presenting 17 artists with very different styles. Like US art, Argentine art has a strong flavor of the melting pot, that has lately been turning from European influences to its native resources. Many of the paintings and water colors in the show were inspired by the École de Paris, from staid academic works to surrealism. Others are more indigenous. Join us for this awaited summer show on Viernes Culturales, have a glass of wine and enjoy our exhibit. Exhibition runs through July 30th, 2009.
1646 SW 8th Street. Miami, FL 33135. Ph: 305.644.3315
Email: cremata@crematagallery.com. Website: www.crematagallery.com
EVENTS / EVENTOS
Free History Walking Tour of Little Havana led by RENOWNED HISTORIAN Dr. Paul George. (Meet in front of Tower Theater) 1508 SW 8 Street, Miami, FL 33135. (7:00 p.m.)
Calle 8 Gallery Openings
19 Galleries open their doors to the public during Viernes Culturales / Cultural Fridays
Between 17th and 13th Avenues. (7:00 – 10:00 p.m.)
Viernes Culturales / Cultural Fridays, Inc.
742 SW 16th Avenue
Miami, FL 33135
Ph: 305.643.5500
Fax: 786.999.8894
info@viernesculturales.org
www.viernesculturales.org