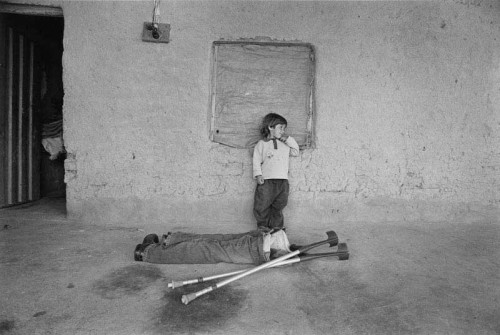 Press Release
CCEMIAMI PRESENTS: VIDAS MINADAS, 10 AÑOS
The follow up phase of the photography and awareness project on personal mines visits Miami after its presentation in New York's U.N. Gallery
Vidas Minadas, 10 años (Mined lives, 10 years), a program for the defense and promotion of human rights with a photo exhibition, roundtable and film on the subject of anti-personal mines
Opening and roundtable: June 26, 7 pm. Roundtable to present Gervasio Sánchez, creator of Vidas Minadas and Gustavo Laurie from United Nations Mine Actions Service (UN MAS).
Dates: On view until June 31. Monday-Friday from 9 to 5 pm
Place: Centro Cultural Español
800 Douglas Road, Ste 170
Coral Gables, FL 33134
Info: Cova Najera
prensa@ccemiami.org
Tel. 305-448-9677
Price: Free
Vidas minadas 10 años,
Gervacio Sanchez, Kurdistan, Irak
CCEMIAMI PRESENTS: VIDAS MINADAS, 10 AÑOS
On Friday June 26, CCEMiami will open the exhibition "Vidas Minadas, 10 años" that will visit Miami after being presented in New York as part of the celebration of the International Day for the Sensibilization on Land Mines and the Assistance in Mine Action at the UN headquarters.
"Vidas Minadas, 10 años", was initiated in 1995 by Gervasio Sánchez, a winner of the prestigious Premio Internacional de Periodismo Rey de España 2008, and is supported by the Spanish Agency of International Cooperation for the Development (AECID), Intermón Oxfam, Manos Unidas, Médicos sin Fronteras and DKV Seguros.
The show presented at CCEMiami has been compiled in a book and follows up on the personalized stories of the first photographic project initiated in 1997 that documented the dramatic aspect of the victims of anti-personal mines in countries such as Bosnia, Mozambique, Cambodia, El Salvador, Iraq, Angola, Afghanistan, Nicaragua or Colombia. In this new exhibition, we can see the evolution of some of the victims portrayed in 1997 that have established a personal relationship with the photographer. The project aims to bring light to this serious problem and the situation of its victims so as not to forget. "Vidas Minadas" was presented for the first time in the UNESCO headquarters in December of 1998 on the occasion of the 50th Anniversary of the Universal Declaration of Human Rights, when Gervasio Sánchez was named "UNESCO's Special Peace Messenger."
At present, only 151 countries have signed the Ottawa Treaty and there are 167 million mines still active in 78 countries worldwide. The cost of manufacturing a land mine is less than 3 Euros, but the cost of searching, deactivation and destruction is more than 750 Euros. Human rights organizations remind that the problem still needs a resolution and that is imperative to continue working to help the victims and the deactivation process.
In 2008, the show visited Paris on the 60th Anniversary of the Universal Declaration of Human Rights after touring in several cities in Spain.
For more information, please visit: www.vidasminadas.com
The Cultural Center of Spain (CCEMiami) is a non-profit organization dedicated to education, arts and culture that aims to promote and foster cultural cooperation, local creation and fostering dialogue of space and exchange by means of a yearly continuous programming.
Activities at the Cultural Center of Spain are sponsored by the Spanish Agency of International Cooperation to the Development (AECID), Miami-Dade County Department of Cultural Affairs and Cultural Affairs Council, the Miami-Dade County Mayor and Board of County Commissioners.
Schedule is subject to changes. All activities have limited seating. For more info visit our webpage www.ccemiami.org.