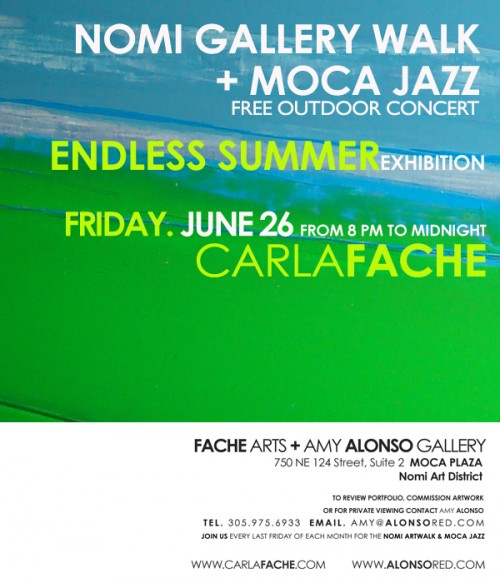 ENDLESS SUMMER ART EXHIBITION – SOLO SHOW BY ARTIST CARLA FACHE
A variety of marks is presented close up to the picture plane in front of aqueous,vibrant mass of color,as if floatin on waves a sense of temporality and change emerges from the sometimes odd and ambiguous messages,wich seem to breathe. Color and gesture with the submerged emotional content of mystical vision revealing the eternal and the temporal as interprenetating and complementary..
ENDLESS SUMMER ART EXHIBITION – SOLO SHOW BY ARTIST CARLA FACHE
The popular Jazz at MOCA + NOMI GALLERY WALK presents FREE outdoor concerts on the last Friday of every month. Featuring some of the great jazz players locally and globally, Jazz at MOCA appeals to all audience, young and old. Why not make a picnic out of it? Bring a blanket, a nice bottle of wine and pizza and have a romantic evening out on the town. Bring your own lawn chair if you want and sit back and enjoy the music! NOMI GALLERY WALK! So bring your friends, your family, or that special someone and see what MOCA PLAZA has to offer! Art for your eyes AND ears!
@ Fache Arts & Amy Alonso Gallery, 750 NE 124 Street, Suite 2 (Next to the MOCA) MOCA PLAZA 33161 – Nomi Art District, for more info contact Amy Alonso 305-975-6933 amy@alonsored.com
www.carlafache.com
www.fachearts.com
www.alonsored.com
Thank you for using Soul Of Miami!