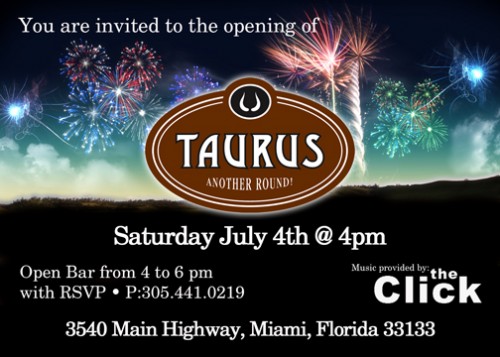 Taurus Returns of Another Round in Coconut Grove, Florida On July 4, 2009
The Taurus, long considered one of Coconut Grove's most beloved traditions, is returning to its original location, the perfectly suited little cottage on the edge of the village center, along Main Highway in Coconut Grove that also happens to be one of the city's oldest buildings. Opening is set for July 4, 2009 with a VIP party from 4 to 6 pm, scheduled as part of the Grove-wide July 4th celebration.
Nearly 84 years ago, the little cottage on the edge of Main Highway, became the gathering place for locals, and remained so until 2002, when the one-acre site was developed into the award-winning Grove Garden residential complex. Now, eight years later, the Taurus is back for another round, right where it started, proving the age old saying, "The more things change, the more they remain the same."
The Taurus is part of the trio of eateries at 3540 Main Highway, which also includes Calamari Italian Seafood and La Bottega Italian Enoteca, scheduled to open later this summer. All is part of the family of restaurants of the highly successful restaurateur, Tom Billante, who has given us such South Florida favorites as Il Villagio, in Merrick Park, Carpaccio in Bal Harbour, Bella Luna and Trattoria Rosalia in Aventura, and Luna Café. At the helm of management will be Salvatore Catania, whose association with Billante dates back to when he was Maitre d' at Billante's legendary Mezzanote in South Beach.
Salvo Catania is adamant that The Taurus will remain true to its traditional "bar and grill" offerings, from the beer and cocktails, that made it the perfect casual gathering and meeting place for locals, to the place where one can expect the best burger in town any time. "We want this to be the Grove's corner pub, where you can enjoy a refreshing beer and always count on getting a great burger; a place where the locals gather and visitors or tourists are welcome; and most of all a place where everyone comes together to share stories and have a good time," he says.