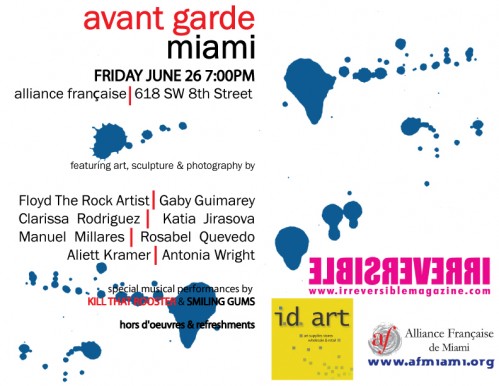 June 26 at 7.00 pm at Alliance Française de Miami
Avant Garde Miami Group exhibit. Opening night with the young artists and Floyd The Rock Artist.
Daring to show a diverse trajectory of avant garde art, Floyd The Rock Artist invites these young, ground-breaking artists to join forces to show an explosion of artistic expression.The artists invited by the Alliance Francaise of Miami will present an array of riveting new artwork, ranging from beautiful figurative acrylic on canvas to exuberant abstracts, digital collage, photography, and metal sculpture.
Free admission
Visiting Hours: 9.00am until 8.00pm week days/ Fridays: 9.00am until 7.00pm/
Saturdays: 9.00am until 2.00PM
Floyd The Rock Artist –
Floyd is a pioneer in the Motion Art movement; he is the only artist of his kind who creates art with rock bands. The final product is a revolution on canvas fueled by the music's energy and Floyd's art. His art manages to span the commercial, artistic and street worlds. Performing live art, he says, has always felt natural, organic and gave him a voice. "I am an irreverent artist. I break rules in art and use a different form of expression without respect for established patterns in paintings." -Floyd
He has performed with music greats such as Juanes, Ricardo Montaner and Miami's own Guajiro. He has had several gallery exhibits in Miami, Coral Gables and Wynwood Design District as well as had his work auctioned off to benefit organizations such as The Miami Lighthouse for the Blind and La Ventana de los Cielos. Most recently his performances and art were featured at the Art Miami's Bridge Art Fair and Green Art Fair in December 2008. In March 2009 he was invited by Irreversible Magazine to exhibit at Arte Americas at the Miami Beach Convention Center.
Gaby Guimarey –
Argentinean-born Gaby Guimarey is an established journalist, photographer and artist who rocks a career in TV and Radio. You can find her as the host of the popular show Puerta Astral on Mega TV and has had several art expositions in Argentina and Miami. This show will feature her modern, abstract acrylics on canvas that use a visual language of form and color to interpret the unexpected balance between nature and industry.
Clarissa Rodriguez –
Clarissa Rodriguez was born in Puerto Rico and is an abstract painter who paints modern, geometric figures on surprising mediums. A seasoned artist with various expositions under her belt she brings with her a fresh and new approach on abstract painting.
Rosabel Quevedo –
I view the art of photography as a subtractive process, a distilling of reality into a personal vision. As such I often use the tools of modern photography – different film stocks, filters, digital enhancement – to try to capture in an image the emotions I felt at the moment I tripped the camera's shutter.
Aliett Kramer –
Her color has the unemphatic glow of a slow embrace, and the carefully calibrated horizontal bands drawn across the landscape in a colorful form of freedom and all the psychological assurance that measurement can bring no corners or end. The work is undemanding but right there, detached but full of feeling.
Antonia Wright –
Antonia Wright is a Miami born, Cuban-America artist, whose work employs photography, poetry, performance, installation, video art and the interaction between these forms. Her pieces are 'social experiments', highlighting the bizarre within the everyday façade of the 'normal'. Much of her work investigates interpersonal connections to our surroundings and why we, both collectively and individually, do the things we do. She received an M.F.A. in poetry from the New School University and is a graduate from the International Center of Photography's General Studies Program. Antonia's work has been featured in numerous group shows including Amnesty International's exposé on Cuban-American artists in Los Angeles. She is also the curator of the The Keys Project, an ongoing multi-city venture whose aim is to document and collect keys and portraits of their possessors.
Katia Jirasova –
Katia Jirasova was born in Lima, Peru with Czech, Italian and Peruvian grandparents. She attended a British high-school and later graduated with different degrees in American universities where she had contact with a variety of cultures. Here is when she learned to be a CITIZEN of the WORLD. Part of her life is using art to communicate a genuine LOVE and RESPECT for every member of humanity, independent from their race, religion, beliefs and lifestyles. "My only fear is the closed mindedness and disrespect by unenlightened beings towards the incomprehensible."
Special Guests :
Manuel Millares –
Born in Havana, Cuba and exiled to the US in 1960, Manuel Millares has been a long time figure in the influential art scene in New York in the late 60s. He predominantly works with metal and has sculptures in Museums, public spaces as well as being acquired by private collectors.
Irreversible Magazine –
Irreversible Magazine is an International art project founded in 2005 by Norelkys (Noor) Blazekovic, to portray how in recent decades artists have progressively expanded the boundaries of art, as they have sought to engage in an increasingly pluralistic environment. The creating and understanding of art, are likewise no longer grounded in traditional aesthetics. In the early 20th century, Marcel Duchamp threw all traditional notions of the identity of the artist and of art into disarray and his Dada associates. In ironic mockery of the Renaissance tradition, which had placed the artist in an exalted authoritative position, Duchamp, as an artist, declared that anything the artist produces, is art. For the duration of the 20th century, this position has complicated and undermined how art is perceived but at the same time, it has fostered a broader, more inclusive assessment of art. Irreversible invites to explore the freedom of developing new models and instruments from everyday life, as Irreversible evolves in its efforts to become a creative medium for the better understanding of the complexities of our contemporary existence.
Special musical performances by Kill That Rooster and Smiling Gums.
Tel: 305.859.8760
www.afmiami.org