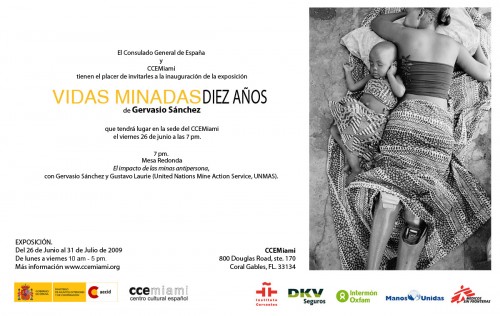 ART EXHIBITION: MINED LIVES, TEN YEARS BY GERVASIO SÁNCHEZ.
START DATE: 06-26-2009
END DATE: 07-31-2009
HORARIO: 8 pm
Program for the defense of Human Rights
Opening June 26, 7pm
On view until July 31. Mon-Fri 9am-5pm
www.vidasminadas.com
At CCEMiami. Free Admission.
7pm. Round table.
The impact of Antipersonnel Mines with Gervasio Sánchez and Gustavo Laurie from the United Nationes Mine Action Service (UNMAS).
Ten 10 years after the creation of the Ottawa Treaty against antipersonnel mines only 151 countries have signed the document. Today 167 millions of those gadgets are still buried in 78 countries all over the World. The work by the Spanish photo journalist Gervasio Sánchez, awarded with the Rey de España International Press Price in 2008, shows us how countries involved in war change forever.
Antipersonnel mines are still a problem for the international community. Dozens of countries suffer the consequences while many governments systematically break their promises or even violate the Treaty they have already signed. This show offers an overview of the present reality of the victims that were part of Sanchez's first works on the issue. The aim is to raise public awareness about the impact of those weapons.
The show has been on tour in 2008 (60th anniversary of the Universal Declaration of Human Rights) and has visited among others the UNESCO headquarters in Paris and the United Nations in New York. Vidas Minadas 10 años después / Mined Lives 10 years later will be on view until July 31th.
CONTACT PHONE: 305 448 9677