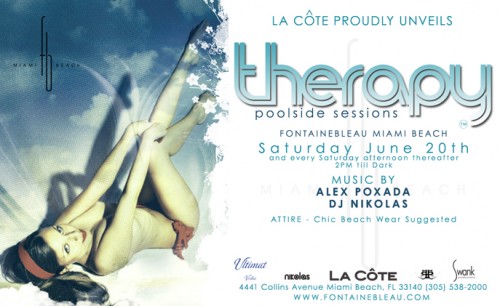 JOIN US ✸ LA COTE AT FONTAINBLEAU FOR MIAMI'S MOST EXCLUSIVE POOLPARTY
GOTSOUL MIAMI
Saturday, June 20, 2009 at 2:00pm – 10:00pm
✸ LA COTE @ FONTAINEBLEAU MIAMI BEACH POOLSIDE
4441 COLLINS AVENUE
Miami Beach, FL
✸ THERAPY – as the Sun rises to it's brightest point in the sky is when we revel in the gift of life! No matter where you are, there comes a pride to admit that one can always find refuge in THERAPY.
Since 1999, THERAPY has been providing soulful salvation through Funk-Soul-and a sexy deep house or afro latin sound. To accommodate our ever growing fan base we also include all types of house and DJ's.
Gotsoul's THERAPY weekly sessions can now be found in the most prestigious and influential as well as underground venues across the world. NYC – LA – PHILIPPINES – MIAMI – GREECE – SAN FRANCISCO – SOUTH AFRICA – FRANCE – CABOS SAN LUCAS – Montreal's award winning event travels the world with international DJ 'jojoflores' who is voted NYC's Best International DJ 2002-2006
"With 10 years of unity and the promise of longevity through integrity and credibility, you've got to feel it to believe it."
✸ FONTAINEBLEAU MIAMI BEACH
At the beginning of the 20th century Miami Beach was an island of farmland set amidst a jungle of mangrove – a landscape primarily wild and still uninhabited.
In the 1950's Miami beach entered a golden era and was considered America's Riviera. In the 1980's an influx of fashion designers,photographers and models sparked a renaissance of Miami Beach glamour and style.
Today Fontainebleau Miami introduces a new culture. One that blurs the line between the glamour of the past , the luxury of the present and a new vision of tomorrow.
✸ "LIFE IS A STAGE…WHAT PART WILL YOU PLAY?"
Fontainebleau's new poolscape boasts "walls of water" intermingled with a free-form pool. Guests can also relax by an exclusive European-style pool with a sexy enclave surrounded by cabanas and sun loungers.This renowned oceanside focal point will remain as glamorous as when James Bond and Goldfinger sat by the pool for a heated game of gin rummy.
Private cabanas with personalized service surround the resort's six pools. Each cabana is equipped with a 32-inch, flat-screen television, wireless internet, butler service, mini refrigerator, phone with data connection and a digital safe able to store a laptop or other valuables.
A highlight of the poolscape is the Island Cabana located at the center of the Round Pool, which serves as a natural gathering place during the day and an extension of La Côte's festive atmosphere.
✸ FOR EXECUTIVE SERVICE – GROUPS – CABANA RENTAL – CELEBRATIONS RSVP – swankpro@gmail.com
✸ THERE IS NO CHARGE FOR THIS EVENT BUT YOU MUST BE INVITED FOR ACCESS
THIS WEEKS MUSICAL TALENT:
ALEX POXADA – http://www.myspace.com/djalexpoxada
NIKOLAS – http://www.facebook.com/djnikolas