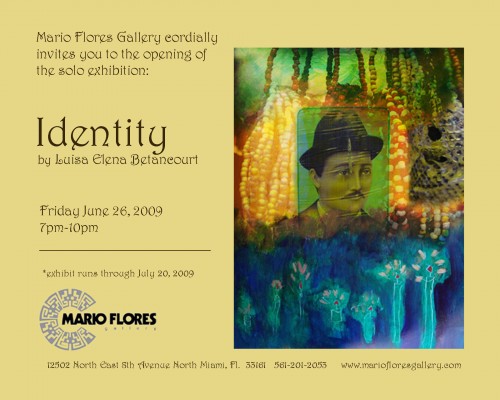 Mario Flores would like to present the next solo exhibition of photography-mixed media
on Friday June 26, 2009 7pm-10pm.
Artist, Luisa Elena Betancourt (Caracas 1945) is a multidisciplinary artist and
Fulbright scholar with a Master of Fine Arts from Washington State University(1992).
Represented by Aldo Castillo Gallery in Chicago and for the first time showing her
Identity Series at Mario Flores Gallery in Miami.
Eduardo Planchart (Ph.D.) about her work: Variegated patterns amidst phrases such as
Don Juan of the Money, Flying Witch Powder, Knock Out Witchcraft, Fast Luck,
Man-Catching Honey, Mattress Smasher and styles that go from Kitsch, ethnological
photography and popular commercial art to portraits and comic language generates
prejudiceless eclectic aesthetics that reflects the collective soul of Venezuela. Luisa
Elena Betancourt uses this raw material in the Identity series.
We are in the North Miami Art District and across the street from the Moca
(Museum of Contemporary Art) in the Art Nexus building.
Also, don't forget the Gallery Walk & jazz concert in the Moca park on this night
and every last Friday of the month. Free public parking is plentiful.
Complimentary wine & light hors d' ouevres will be available.
Please see attached invitation & refer to the gallery website mariofloresgallery.com.
The exhibition will continue until July 20, 2009.
It will be a pleasure to have you & be a part of this cultural evening.
Thank you,
Mario Flores
MARIO FLORES STUDIO & GALLERY
12502 ne 8TH ave
north miami, fl 33161
561-201-2053
www.mariofloresgallery.com
www.mariofloresphotography.com