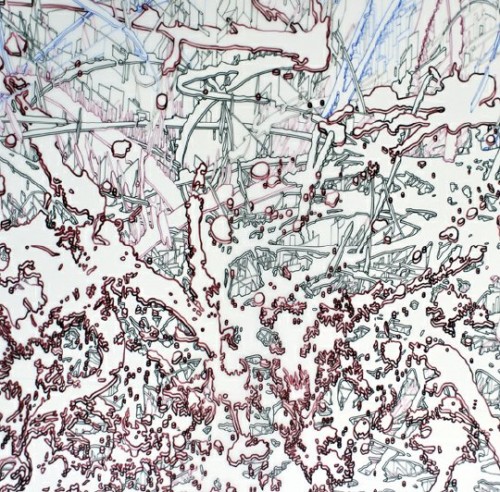 (detail), 2008
on Mylar, 42″ x 64″
FELICE GRODIN
Lost Horizon
WHEN: Saturday, June 13th, 7:30pm – 10:00pm
WHERE: Diana Lowenstein Fine Arts – 2043 North Miami Avenue – Miami – FL – 33127
T 305.576.1804 F 305.576.1805 info@dlfinearts.com
"We are living in a time when fixed notions have been lost and new possibilities are on the
horizon. My work attempts to trap the mutable state of things where paradigms shift, boundaries
erode and particles collide. I investigate the architecture of chance, the stretching of the
'truth' and the delaying of the inevitable."
Exploring drawing, collage and sculpture, Felice Grodin maps out cartographies of tension and
compression that remain spatially ambiguous. They represent moments of transformation,
movement and entropy.
Felice Grodin was born in Bologna, Italy. She obtained her BArch from Tulane University where
she received the Thomas J. Lupo Award for Metropolitan Studies for her thesis project, and her
MArch with Distinction from Harvard University where she was awarded the Faculty Design Award.
Her work was recently featured in the show "Drawing Beyond the Plane" at the Tampa Museum
of Art as well as the publication New American Paintings. In addition, she curated her first show at Locust Projects in Miami called "Synesthetics" which explored the creative interface between art, design and technology. Felice lives and works in Miami Beach.