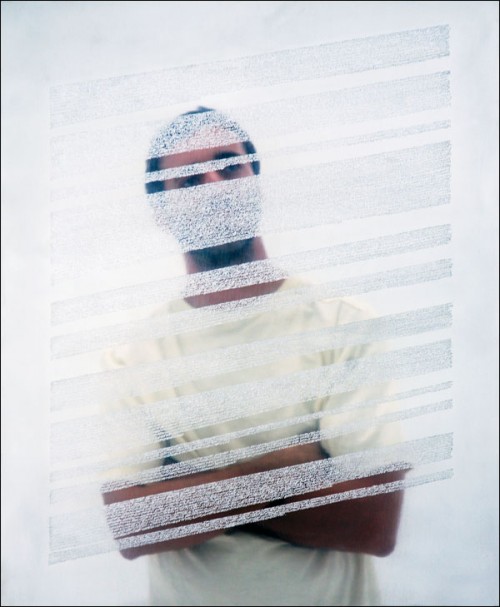 MICHAEL GENOVESE – IT'S NOT THE HEAT, IT'S THE HUMILITY
Opening June 13, 2009 – For his premiere solo exhibition in Miami, Michael Genovese releases a recent body of work that will include site-specific installations, sculpture, and paintings.
A Chicago native, Genovese instinctively carries a metropolitan dialect and acumen into his work. An early exposure to multiculturalism joined with his professional training as a sign painter led to a socially inspired vehicle of expression. Creating work that makes use of his technical abilities and familiarity with specific materials, Genovese's ability to open a communal discourse ultimately became his trademark style. Through public murals and installations, his deft handling of type and unorthodox use of industrialized media further cemented his status as one of today's most promising contemporary artists. His latest work exemplifies his focus on community and its influence, but also digs inward and begins the process of reconciling his public works with his personal journeys.
Michael Genovese has recently exhibited at the University of Texas, San Antonio, Museum of Contemporary Art, Chicago and the Chicago Cultural Center. His work was recently published in New American Paintings; The Upset: Young Contemporary Art, Art Lies Contemporary Art Quarterly and Dazed and Confused.
ABOUT O.H.W.O.W.: Aaron Bondaroff and Al Moran's Our House West of Wynwood (O.H.W.O.W.) is Miami's most exciting high profile art space. Designed by Rafael de Cardenas of Architecture at Large, the venue features prominent international and U.S. based experimental art as well as innovative contemporary art forms through an alternative cross-disciplinary perspective.
OPENING RECEPTION
DJ set by Camp Gabby
8pm – midnight
SPECIAL THANKS
Grolsch
O.H.W.O.W.
3100 NW 7 Avenue
Miami, Florida 33127
305.633.9345 office
305.637.3443 fax
info@oh-wow.com
Thank you for using Soul Of Miami!