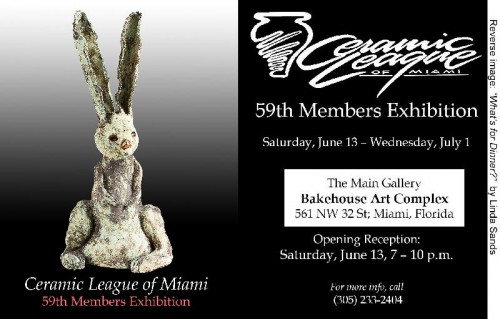 Join Us! Saturday, June 13th 7-10pm!
3 Exhibitions & 65 Open Studios
FREE AND OPEN TO THE PUBLIC
Bakehouse Art Complex
561 NW 32nd Street, Miami FL 33127
305.576.2828
www.bacfl.org
MAIN GALLERY: Every Year, the Ceramic League of Miami invites a visiting artist to host a workshop for its members and to judge members' entries for its annual Member's Exhibition Juried Show. This year's guest jurist is Janis Mars Wunderlich. The Main Gallery at the Bakehouse Art Complex will showcase their selected artists for their 59th annual exhibition.
The Ceramic League of Miami was founded in 1950 with the dual purpose of educating local artists and the general public in all aspects of ceramics. It has become a volunteer, non-profit organization whose members learn from each other and from nationally visiting artists.
PROJECT ROOM: Artistic Intervention, Fragmented Conversations Rosa Naday Garmendia
An experimental visual conversation presented by Rosa Naday Garmendia's current work.
SWENSON GALLERY: The Bakehouse Art Complex is proud to present works from visual art students of Miami-Dade College Kendall Campus.