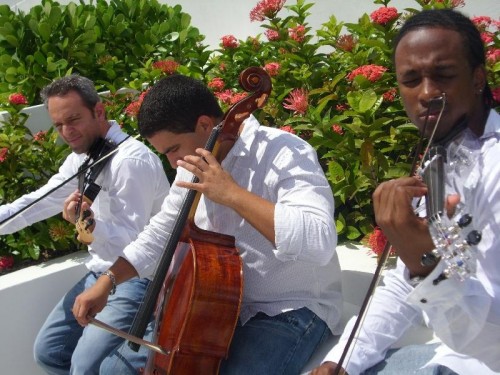 Bass Museum of Art Concert – String Fusion
Sunday, June 14th, 3:00pm
The Bridge String Trio presents 'String Fusion', a dynamic cross-cultural string performance of original and classical compositions. Cuban musicians AIain Orbiz, Otto Avalos, and Jorge Oviedo draw inspiration from diverse musical styles, traditions, and cultures.
Alain Orbiz graduated from the Conservatorium Amadeo Roldan and has accompanied Cuban singer Liuba Maria Hevia, as well as renowed bands in Spain. Since 2005 he has worked as a classical cello teacher for the American Children Orchestra and in the Miami Conservatorium.
Violinist Otto Avalos, graduated from the Conservatorium in Matanza, after which he worked for the Orchestra in Matanza, and worked for Ricardo Arjona in Mexico beginning in 2001. In 2005 he moved to Miami, Florida and has been working as a violin teacher for American Children Orchestras. He plays with several Classic Trios and Quartets and the Florida Chamber Orchestra.
Violinist Jorge Carlos Oviedo, graduated from The National School of the Arts in Cuba. He played for the Great Theatre of Havana's Symphonic Orchestra. Today he resides in South Florida and teaches for the American Children Orchestras and plays with several renowned bands in the area.
Don't miss these exciting young musicians in their premier performance at the Bass Museum of Art!
Free with museum admission. Seating limited to first 80 guests.
Bass Museum of Art
2121 Park Avenue (in Collins Park)
Miami Beach, FL 33139
T: 305.673.7530
bassmuseum.org
The Bass Museum of Art is generously funded by the City of Miami Beach, Cultural Affairs Program, Cultural Arts Council; with additional support provided by Miami-Dade County Department of Cultural Affairs, the Cultural Affairs Council, the Miami-Dade Mayor and the Board of County Commissioners; State of Florida, Department of State, Division of Cultural Affairs, the Florida Arts Council and the National Endowment for the Arts; and Friends of the Bass Museum, Inc.