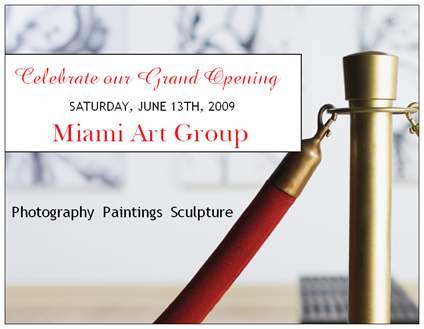 Subject: Celebrate Miami Art Group's Grand Opening
MIAMI ART GROUP
Miami Art Group has moved to the Wynwood Arts District. Please join us for our grand opening event. Enjoy an evening filled with special entertainment, cocktails and new artwork from some of the best talent in the industry.
Date: June 13, 2009 Time: 8pm-10pm
Location: 21 NW 36th St Miami, FL 33137
305-576-2633
www.miamiartgroup.com
Please RSVP
I want to personally invite you to be a part of Miami Art Group's Grand Opening event. The new gallery space is incredible and has its own unique personality. I have personally selected some new artwork and new artists that I want to show you.
Dustin Benge
Miami Art Group
Miami Art Group | 21 NW 36TH ST | Miami | FL | 33137
Thank you for using Soul Of Miami!