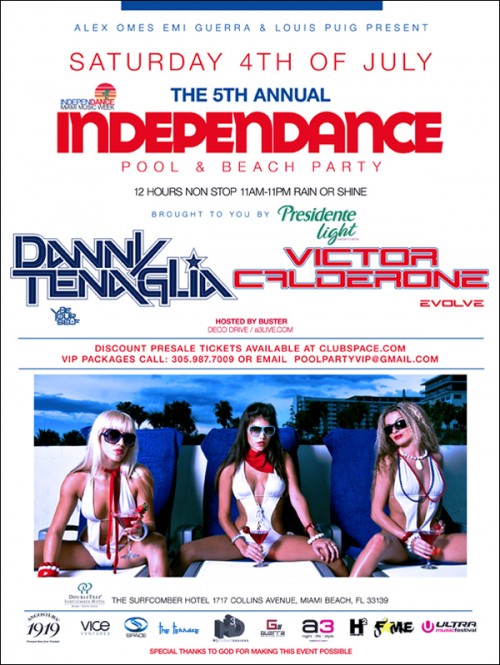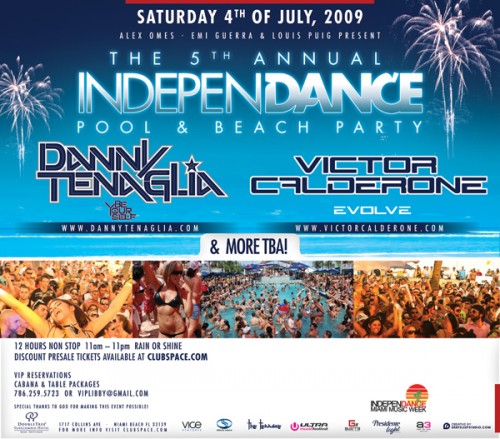 Saturday, July 4th, the legendary IndepenDANCE Pool and Beach Party returns for it's fifth straight year. Since it's inception a mere half-decade ago, the IndepenDANCE event has become the hallmark of the Miami summer, bringing such luminaries to the decks as Erick Morillo, Steve Lawler, Armin Van Buuren, Boris, Mark Knight, Kaskade, and Behrouz for an energetic afternoon and evening of eclectic dance music sounds poolside at the luxurious Surfcomber Hotel on South Beach.
Not content to rest on their laurels, the team behind these stellar events is once again rasing the bar for their fifth annual event. In an extremely rare daytime appearance, two of the true pioneers of the American house music scene, Danny Tenaglia and Victor Calderone, will be converging on the Surfcomber Hotel pool for a massive afternoon and evening of relentless beats.
Even the most neophyte dance music fan will recognize these legends. With a career spanning over thirty years, Danny Tenaglia is known around the world for defining the term, "marathon set", with a ten-hour stretch being an average night at work for this defining DJ. Behind the decks and in the studio, Danny has been at the forefront of every major dance music movement over the course of his career, from house, to progressive, to techno and beyond. Unable to be categorized, fans will simply describe his style as "Danny", as his sets have to be experienced to be believed.
As if Danny was not enough for a massive afternoon out, IndepenDANCE brings out another legend, Victor Calderone. Learning his first DJing tricks from Danny himself over twenty years ago, Victor Calderone is no stranger to massive crowds or fame. Whether he's rocking crowds of ten thousand or more in Ibiza, Montréal, New York, Los Angeles, Tokyo, or here in Miami, Victor knows how to handle the most diverse crowds on earth. No stranger to the studio, Victor's own productions are sought out by globetrotting DJs the world over, and his studio magic has been sought out by the best in the business, including Madonna, Depeche Mode, Gloria Estefan, and Beyoncé.
Of course, this is not all the IndepenDANCE crew has in store for the masses, with more DJ talent being added to the roster as the holiday weekend draws closer.