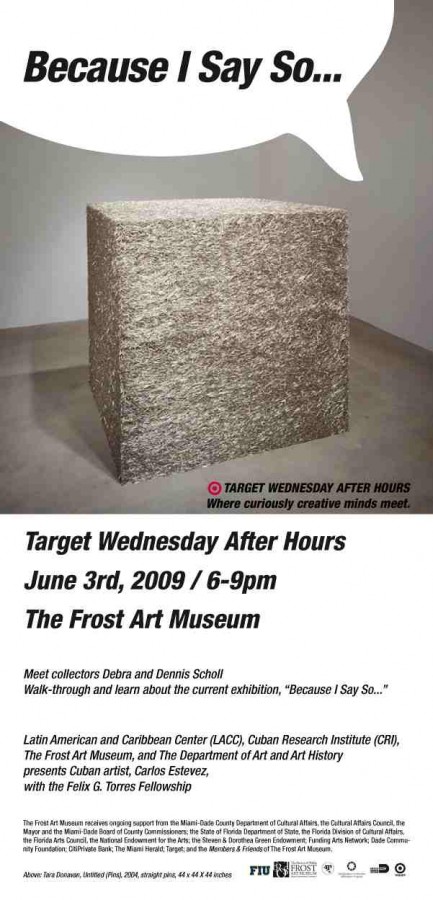 Target Wednesday After Hours: Walk-through Exhibit with Collectors Debra and Dennis Scholl and Lecture by Artist Carlos Estevez
The Patricia & Phillip Frost Art Museum presents Target Wednesday After Hours on June 3rd at 6 p.m. Collectors Debra and Dennis Scholl will walk through The Museum's current exhibition, Because I Say So. Following the walk-through, a presentation titled "Theatrum Mundi: A Journey Through 17 Years of Work" will be given by Cuban artist Carlos Estevez as part of the Félix González-Torres Community Art Project at FIU. The event is free and open to the public.
Major collectors Debra and Dennis Scholl present the often unseen sculpture that is central to their significant contemporary art collection. The Scholls have been in the forefront as collectors and supporters of emerging and established contemporary artists for many years. They describe their process as looking for "work that succeeds both on and below the surface, evoking a strong response, and not necessarily a positive one. "So long as a viewer is engaged enough to give a reaction, either one of pleasure or discomfort, we feel that the work has succeeded". Their vision for the future of their artists has not only resulted in extraordinary recognition for work that was virtually unknown, but also, as they certainly "took chances" in their choices over the years, in the compilation of a collection that is as unique as it is provocative and representative of the cutting-edge of art.
Carlos Estevez studied at the Instituto Superior de Arte in Havana Cuba, where he was born. Recently he was invited by The Museum of Modern Art (MOMA) in New York to participate in a seminar on Cuban art. He was one of the finalists for the 2009 Emilio Sanchez award granted by The Cintas Foundation and The Patricia & Phillip Frost Art Museum at Florida International University, where two of his pieces are currently being exhibited.
Estevez's presentation is sponsored by Félix González-Torres Foundation, The Patricia and Phillip Frost Art Museum, The Department of Art and Art History, The Latin American and Carribean Center(LACC), and the Cuban Research Institute(CRI) of Florida International University. After the presentation by Carlos Estévez, there will be a reception. For more information on Estevez's Lecture or to RSVP please call the Cuban Research Institute at (305) 348- 1991.
About the Frost Art Museum – Florida International University
Over 14,000 people have visited The Frost Art Museum since the new building's November 2008 opening. The Frost is an AAM accredited museum and Smithsonian affiliate. The museum is located at 10975 SW 17thSt across from the Blue garage and adjacent to the Wertheim Performing Arts Center on the University Park campus. Its hours of operation are Tuesday through Saturday 10 a.m. – 5 p.m. and Sunday noon-5 p.m. The Frost is closed on Mondays and most legal holidays. For more information, please visit http://thefrost.fiu.edu or call 305-348-2890.