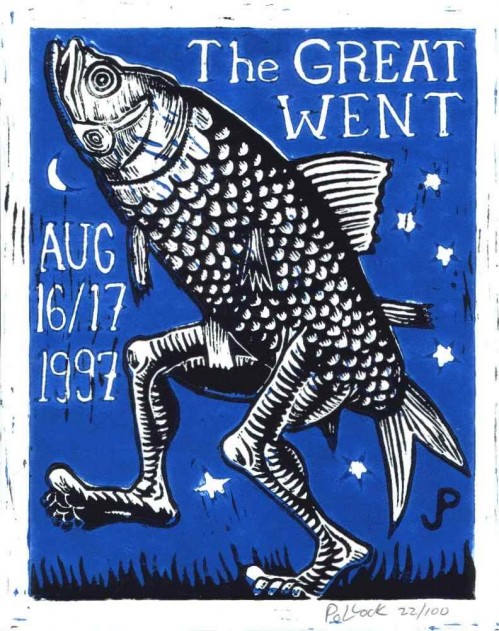 Jim Pollock: A PHANTASY PHEAST
Works 1989-2009
Vip Opening/Media Preview With Jim Pollock: June 25th 6-9pm
Exhibition: June 26, 2009 – July 18, 2009
Festival Opening: June 11, 2009 – June 14, 2009 @ Bonnaroo
Jim Pollock Walking Fish, 1997
www.101exhibit.com
101 Exhibit | 101 NE 40th Street | Miami | FL | 33137
Renowned artist Jim Pollock, legendary for creating the visual imagery for the cult status band Phish, comes to 101/exhibit to reveal for the frst time a complete retrospective on his two-decade plus career.
Jim Pollock: A Phantasy Pheast will not only lead his fans through a chronological history of Pollock's life as an artist, but it will also reveal his process. Pollock will be flmed and broadcast live in streaming video via www.101exhibit.com printing a limited edition run of a print designed specifcally for this show.
Famous for his vibrant linoleum prints, show posters, and album artwork, Pollock got his start almost accidentally. As told by Pollock to Paul Grushkin and Dennis King, authors of the recently published book Art of Modern Rock "My wife was teaching a class, 'Methods of Teaching Art,' for her education degree, and she had to do a linoleum print. I thought it looked fun, and so I picked up an extra block to cut, and I really have not stopped since."
By 1999, Jim was carving 12" x 24" blocks and printing with an ancient iron crankwheel bookbinding hand press. To print a poster this large Jim was required to crank the pressure plate down four times. Multiply that by the number in a run (sometimes up to 600) and then by the number of colors (one plate per color) and you end up with quite a labor-intensive process.
The artist's more recent work has been very personal, dealing with environmental and social-political themes. He prefers to print on hemp paper and is committed to the re-legalization of hemp as a valuable farm commodity. He has also begun to print larger images using a Heidelberg letterpress machine.
Pollock is diligently creating brand new commissions for several leading Jam Bands, including Phish. And however inevitable the musical association, there is a lot more to Pollock than band posters. Having a low-key passion for activism, the printer has artfully endorsed environmental and social issues from Hemp paper to solar power to a most ironic commentary on the country's oil consumption. By addressing such affairs, the artist has further continued exploring his craft while reaching new and larger audiences.
The largest and most extensive exhibition of Jim Pollock's artwork ever on display in one location, "A Phantasy Pheast" is not only a detailed tour through the artist's unique imagery, but the perfect chance to see for the frst time the most private and unique works and meet Jim. For more of Jim Pollock and his work, or to purchase prints, please contact or visit us online at www.101exhibit.com. This exhibition will be on display at 101/Exhibit from the 25thof June through the 18th of July.