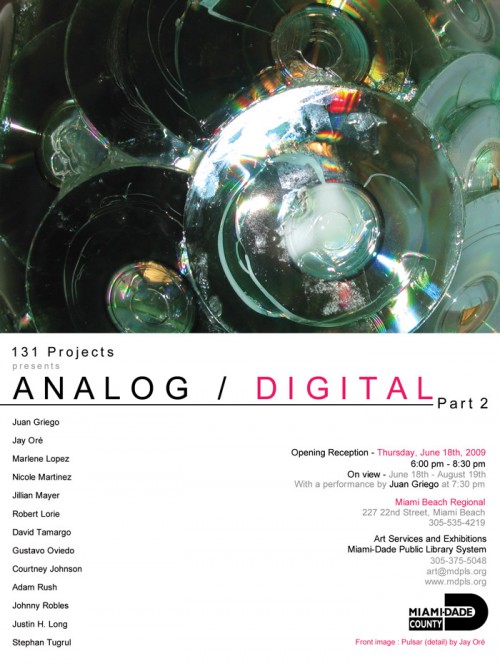 Analog/Digital – Part 2
June 18 – August 19, 2009
Miami Beach Regional, 227 22nd Street, Miami Beach – 305-535-4219
Reception: Thursday, June 18, 6- 8:30pm
With a performance by Juan Griego at 7:30 pm
131 Projects presents Analog/Digital: Part 2, a multimedia exhibition including the work of Marlene Lopez, Nicole Martinez, Juan Griego, Jillian Mayer, Robert Lorie, Gustavo Oviedo, Stephan Tugrul, Courtney Johnson, David Tamargo, Justin H. Long, Jay Oré, Adam Rush, and Johnny Robles. The exhibition explores the tension between old and new technologies using analog and digital media, creating a sensory environment that includes found objects, painting, audio, photography, installation, and new media.
131 Projects presents Analog/Digital – Part 2, a multimedia art exhibit showcasing Miami artists. Miami Beach Library Gallery, is the venue for this upcoming project that seeks to create an environment in which the viewer will be surrounded by a combination of digital and analog art complementing our sensorial impression and awareness.
13 Artists have been invited to participate in this study where old and new technologies merge their influences in today's society:
Juan Griego
Jay Oré
Marlene Lopez
Nicole Martinez
Jillian Mayer
Robert Lorie
David Tamargo
Gustavo Oviedo
Courtney Johnson
Adam Rush
Johnny Robles
Justin H. Long
Stephan Tugrul
This show analyzes both Analog and Digital concepts and the way they relate to each other within the realms of society. A series of comments on the interaction of both views and the classic confrontation that so typically arises when discussing their differences.
By comparing and occasionally blending these opposite worlds in a common space. Artists specializing in both environments will develop their concept. A setting in which both methods could be used with objects, paintings, audio, photographs, installations and digital media.