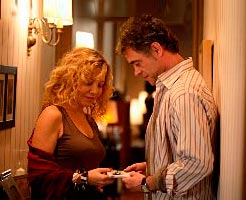 If you missed the closing night film of the 2009 Miami International Film Festival, Empty Nest by Daniel Burman, or missed out on Noche Buena by Camila Loboguerrero, you can still catch both films that touch on crisis and cures in modern day families.
EL NIDO VACIO (EMPTY NEST)
Director and Screenplay: Daniel Burman
Producer: Daniel Burman, Diego Dubcovsky
Cast: Oscar Martînez, Cecilia Roth, Inés Efrón.
Genre: Drama
91 min., 35mm. In Spanish with English Subtitles
Argentina, Spain, France, Italy
Synopsis: When their last child leaves home, a middle-aged couple suddenly finds themselves alone for the first time in years. While the husband tackles the empty-nest syndrome with vivid fantasies, his wife throws herself into a whirlwind of activities.
EL NIDO VACÍO explora el vacío que se produce cuando los hijos crecen y se alejan del hogar, acto que revela bruscamente las grietas (ocultas durante años por el ruido y caos cotidiano de la vida familiar) existentes en un matrimonio.
Fri., May 29: 7 p.m. and 9 p.m.
Sat., May 30: 5 p.m. and 9 p.m.
Sun., May 31: 5 p.m. and 7 p.m.
Tues., June 2 ? Thurs., June 4: 7 p.m.
and 9 p.m.
NOCHEBUENA
Director and Screenplay: Camila Loboguerrero
Producer: Rodrigo Guerrero ? Dynamo Producciones S.A. (Colombia)
Cast: Constanza Camelo, Edgardo Román, Matías Maldonado
Genre: Comedy
84 min., 35 mm.
In Spanish with English subtitles
Colombia
Synopsis: A Colombian upper class family will go through its worst (and most ridiculous) economic and domestic crisis ever? precisely on Christmas Eve. The final eruption of the Truth will occur at midnight.
Una Familia de clase alta de Bogotá atravesará su mayor crisis (económica y familiar) durante el día de Navidad. La erupción final de la verdad será a las 12 de la noche.
Fri., May 29: 7 p.m. and 9 p.m.
Sat., May 30: 7 p.m. and 9 p.m.
Sun., May 31: 5 p.m. and 7 p.m.
Tues., June 2 ? Thurs., June 4: 7 p.m. and 9 p.m.
PRICES: General Public: $6; Students, Seniors, MFS Members: $5
MIAMI DADE COLLEGE
TOWER THEATER
1508 S.W. 8th ST.
LITTLE HAVANA
Free parking available in public parking
lots located behind the theater.
Estacionamiento gratuito en los dos parqueos públicos situados detrás del teatro.
For additional information, call 305 643 8706.
Para más información llame al 305 642 1264.
Or visit us at MIAMI DADE COLLEGE'S TOWER THEATER