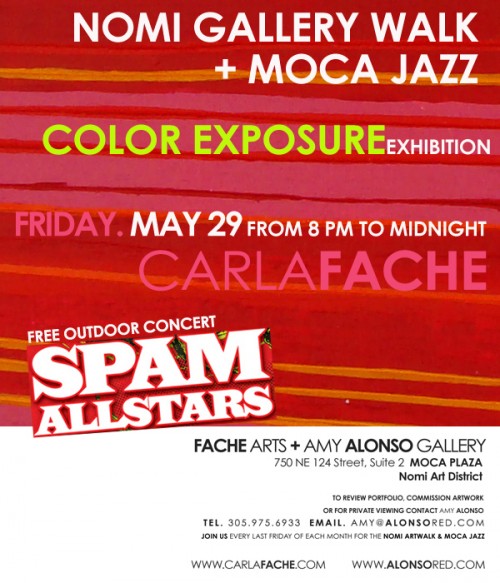 Fache Arts + Amy Alonso Friday May 29 Gallery Walk
The popular Jazz at MOCA + NOMI GALLERY WALK presents FREE outdoor concerts on the last Friday of every month. Featuring some of the great jazz players locally and globally, Jazz at MOCA appeals to all audience, young and old.
Why not make a picnic out of it? Bring a blanket, a nice bottle of wine and pizza and have a romantic evening out on the town.
Bring your own lawn chair if you want and sit back and enjoy the music!
NOMI GALLERY WALK!
So bring your friends, your family, or that special someone and see what MOCA PLAZA has to offer! Art for your eyes AND ears!
THIS FRIDAY MAY 29, 2009
THE SPAM ALLSTARS PLAYING LIVE!
COLOR EXPOSURE EXHIBITION – CARLA FACHE @ Fache Arts & Amy Alonso Gallery 750 NE 124 Street, Suite 2 (Next to the MOCA)
MOCA PLAZA – Nomi Art District
FOR MORE INFO CONTACT :
Amy Alonso
305-975-6933
amy@alonsored.com
www.carlafache.com
www.alonsored.com
www.fachearts.com