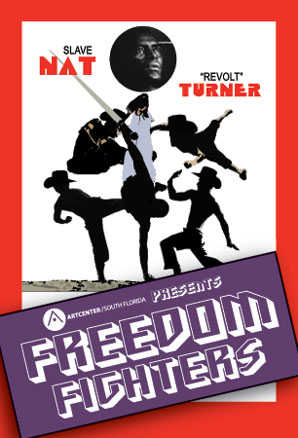 Freedom Fighters: An American Legend Re-imagined
Opening Reception, Friday June 12th 7-10pm
with Funk and Soul by Sonny Daze
On view through July 19, 2009
12 graphic artists from across the country have designed mock posters of iconic African Americans including Harriet Tubman, Nat Turner and the Black Panthers. This subversive exhibition uses movie poster artwork to examine the 1970s Black Exploitation film genre and its role in casting contemporary truths and challenging fixed notions of history. Curated by Roderick Southall of Obsidian Arts (MN).
Our gallery located at 800 Lincoln Road on Miami Beach is free and open to the public.
For more information please contact us at 305.674.8278 or visit us online at www.artcentersf.org
Thank you for using Soul Of Miami!