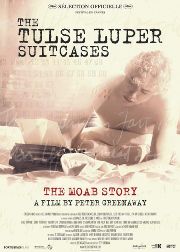 The Tulse Luper Suitcases by Peter Greenaway (2005). 125′
In English
At CCEMiami. Free Admission
800 S Douglas Rd. Suite 170. Coral Gables, FL 33134
"The Tulse Luper Suitcases" is a trilogy of 120-minute feature films covering 16 episodes in the life of Tulse Luper, a "professional" prisoner. Featuring sixteen prisons, the trilogy reconstructs the story of his life from the evidence of 92 suitcases found around the world between 1928 and 1989.
Imprisoned for as many reasons as are conceivable, including the real and imagined crimes of lust, espionage, greed, love, wrongful impersonation, embezzlement, murder, political ambition and ambition itself, Tulse Luper makes being prisoner into an art. The story covers sixty years of history, from the anniversary of the discovery of Uranium (1928) to the collapse of the Berlin Wall in 1989.