This month, we celebrate J.Vinazza (Marketing Director) of the Auteur Explosion's 31st Birthday!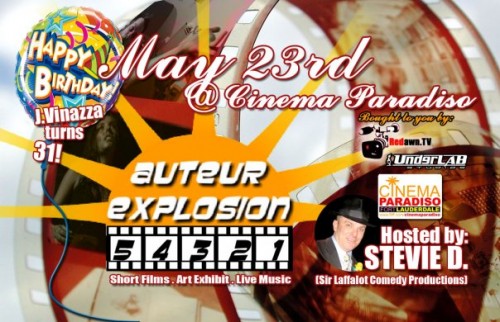 The May 23rd line-up will be hosted by Stevie D. and includes:
• Bands: Xela Zade (9:20-9:35), Tongues of the Heartworm (9:45-10:10) and local celeb Teri Catlin (10:30-11:00).
• Art Exhibits by: Michael Colanero (owner of Uncommon Art Gallery), Nick Lopes (Legend 0187), Melvin Lima, Live Storyboard Animation by Brenda Mabbit of Chik Flix, and Luanna Steffen (AE's resident Live Painter) – who is currently on ArtMurmur's Blog on South Florida Metromix.com.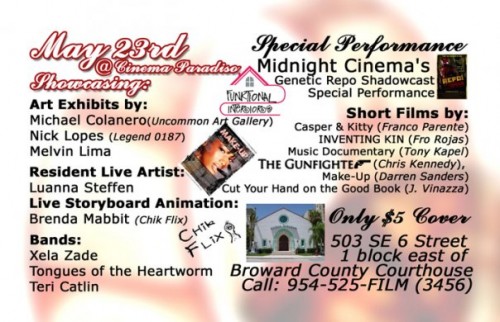 • Then, inside theater at 11:10pm, Midnight Cinema's very own Genetic Repo Shadowcast will do a 4 minute scene from their spectacular show!
• Short Films & Featurettes begin at 11:20 with notable filmmakers: Franco Parente (Casper & Kitty – winner of FLIFF Shorts 2008), Fro Rojas (INVENTING KIN), Tony Kapel (Local Band's Documentarian), Chris Kennedy (The Gunslinger) Darren Saunders (Make-Up), and Underlab Studios (Cut Your Hand on the Good Book) written and directed by the Birthday-Boy, J. Vinazza.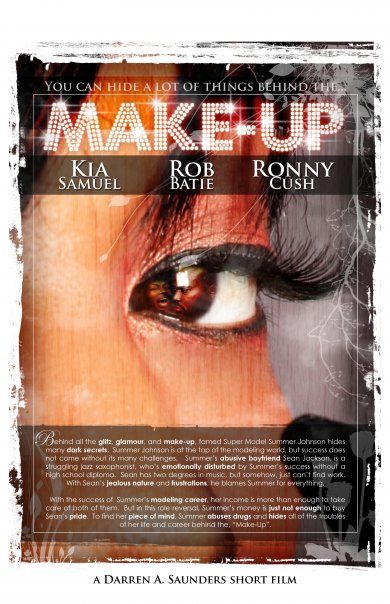 Cinema Paradiso, is conveniently located in downtown Fort Lauderdale. It's hip, trendy yet offers an old world charm suiting to the senses of the art community. The charming 200 + seat theatre, with outside patio also has the capacity to contain the constant influx of new and local talent at the monthly Auteur Explosion. Plus it offers concessions, a full bar, and the best popcorn in town!
9pm-2am
Cinema Paradiso
503 SE 6 Street
Fort Lauderdale, FL
info@redawn.tv