The Education Fund's annual Art of Found Objects Silent Auction features unique pieces created from "found objects" by students and teachers. The Ed Fund raises hundreds of thousands each year for Dade County Public School teachers.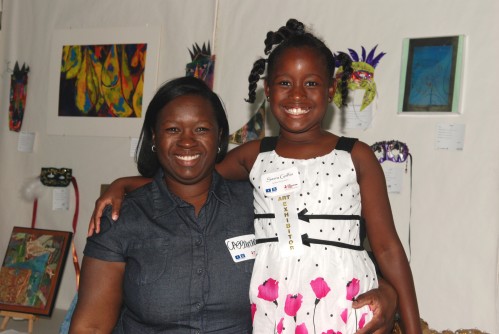 Photo: Cassandra and Sierra
THE EDUCATION FUND AND OCEAN BANK HOST THE 12TH ANNUAL ART OF FOUND OBJECTS SILENT ART AUCTION
Proceeds benefit arts programs in Miami-Dade County Public Schools
The most extraordinary arts and education event of the spring season is here! The Education Fund's 12th Annual Charity Auction "The Art of Found Objects," will take place at the Doral Golf Resort & Spa on Friday May 29, 2009 at 7pm. All the one-of-a-kind artwork is created by students & teachers in Miami-Dade County K-12 public schools. In addition, this exclusive art lover's collection event will feature bids on fabulous luxury items, live entertainment, and an epicurean feast.
WHEN: Friday May 29, 2009
7:30pm – 11:30pm
WHERE: Doral Resort Golf & Spa
4400 N.W. 87th Avenue
Miami, FL 33178
Tickets are now on sale for this amazing event at 305-892-5099, ext 23 or at www.educationfund.org
By supporting The Education Fund events the public is providing much-needed resources and community-wide recognition for children in the visual arts in Miami-Dade County Public Schools (M-DCPS). These highly successful events showcase the essential role of the visual arts in stimulating creativity and academic success for children in our community, particularly those attending low-income schools that often lack basic classroom supplies.
For tickets or more information please contact 305-892-5099 ext 23, or visit www.educationfund.org.
ABOUT THE EDUCATION FUND: Since 1985, The Education Fund has worked side-by-side with the private sector to direct resources where they are needed most in Miami-Dade schools. Their mission is to design and implement initiatives to improve our schools and bring excellence to public education in Miami-Dade. The Education Fund engages the entire community in making educational excellence a top priority and ensuring that every child learns and succeeds in the Miami-Dade County public schools. The Education Funds programs benefit all of the 390+ schools, 22,000+ teachers and 340,000+ students in Miami-Dade County Public Schools.
ABOUT OCEAN BANK Ocean Bank is the largest independent commercial bank headquartered in the state of Florida. Chartered in 1982, Ocean Bank operates a network of 21 branches throughout Miami-Dade and Broward counties. Since its inception, Ocean Bank has impacted education in our community by making substantial contributions to numerous institutions such as the Education Fund, Florida International University, Miami Dade College and The United Negro College Fund/Florida Memorial University. Acknowledging its support, Ocean Bank has received numerous awards and accolades from the Greater Miami Chamber of Commerce, the Beacon Council and the Florida Department of Education, among other organizations. For more information about Ocean Bank, visit www.oceanbank.com.