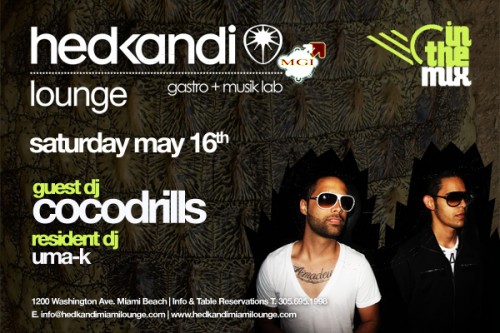 Stephan Morris and MGI Corporation Invites you to the closing party for the old hedkandi Lounge…
Come and see you favorite hedkandi dj and Special Guest all week long. Come say goodbye to this stage of Hedkandi as we are closing to remodel the lounge COMPLELTY !!!
A new kind of Kandi for you eyes, ears and taste is coming this summer..
Friday, May 15th
LOU FLORES will rock the house with the sexiest HOUSE Music, with Resident Uma K.
Saturday, May 16th
COCODRILLS Live at hedkandi with Special Guest DJ CHOCO and Star Island DJ, Justin Blattner
Going to be a BIG week.. See you there!
Please email me for guest list and Table Reservations
Contact: Stephan A. Morris | MGI Corporation
Email: elite.rsvp@gmail.com or reply to this email.
Call or Text: 786 371 6552
Thank you for using Soul Of Miami!