On May 19, Club 50 at Viceroy Miami will host its second Art Viceroy event, this summer's weekly Tuesday night series that presents local artists in the disciplines of video, performance, sculptural and installation art. The series will rotate from Club 50, perched atop the 50th floor at Viceroy Miami to the stunning Philippe Starck-designed Spa, showcasing two of Icon Brickell's own works of art. Guests are invited to sip cocktails from Ruinart and enjoy breathtaking views of downtown Miami, while engaging their visual senses.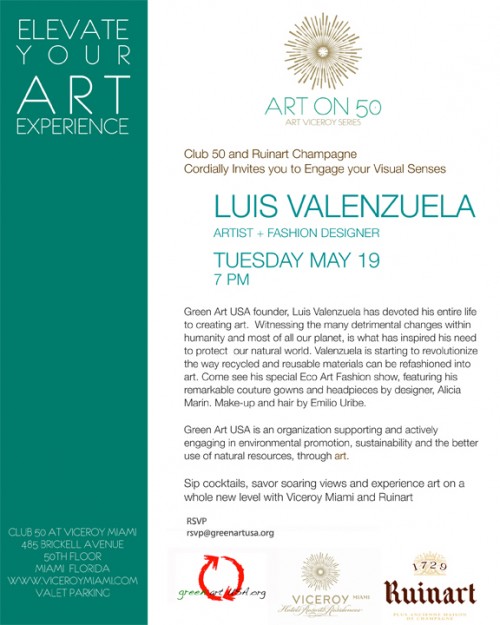 ELEVATE YOUR ART EXPERIENCE
Viceroy Miami announces its revolving Tuesday night art and cocktails series, Art on 50. Art on 50 will feature the work of Miami-based artists, emerging and mid-career, in the disciplines of video, performance, sculptural and installation art- all set within the highly styled confines of the intimate and exclusive Club 50.
Art on 50, part of the Art Viceroy series, invites guests to unwind, enjoy soaring views and acclaimed artistic events that will take place each Tuesday night for the next 12 weeks. Twelve artists are being selected by curators Annhy Shim and Erika Pastoriza to create a strong body of works that seek to entertain and elevate guests' experiences. One artist will be featured each week.
"We wanted to take an unconventional approach to 'presenting' art…people tend to forget that art extends beyond paintings and two-dimensional works," says Shim who, in 2005, directed the One Miami Riverwalk with the Related Group of Florida. "The selected artists are well known in the Miami arts community and have works with broad appeal," says Pastoriza. In the coming weeks, artists who will feature their works in Club 50 include: Michelle Weinberg, David Rohn, Luis Garcia-Nerey, Venessa Monokian and Karin Garcia to name a few.
Viceroy Miami, a new-comer to Brickell's hotel corridor recognized the need to advocate Miami's still-thriving and still-emerging art scene. Inspired by the hotel's strong relation to art and design, with interiors by Kelly Wearstler and exterior structural sculptures by Philippe Starck, Art Viceroy will develop arts-focused programming throughout the course of the year, utilizing the hotel's settings to host special art events and engagements starting with Art on 50 and Art Spa.
The opening night of the Art on 50 series is Tuesday May 12th, with performance artist, Belaxis Buil. Art on 50 partners include Ruinart Champagne and Green Art USA supporting the Green Art Center in Miami.